Home > India > Movies > Reviews

A half-decent Darjeeling diversion

Raja Sen | June 27, 2008 11:07 IST


| | |
| --- | --- |
| Sonali Kulkarni and Kay Kay Menon | |
| | |
| | |
| | |
| | |
| | |
| | |
On paper, the Via Darjeeling guys had a pretty neat idea. Literature and cinema have played with the idea of the unreliable narrator for ages, fooling us and then making us applaud how well we've been fooled. Agatha Christie's masterful The Murder Of Roger Ackroyd is a superlative example, as is the Denzel Washington movie, Fallen.
And here, in this little indie movie, the idea is used at its quirkiest and most free-flowing: what if there were a whole bunch of narrators playing with the same variables and not even pretending at reliability?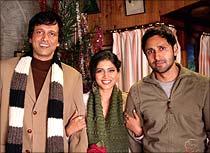 So Via Darjeeling is ostensibly about a married couple, played by Sonali Kulkarni [Images] and Kay Kay Menon, honeymooning in Darjeeling. One fine afternoon, just when they're packing to leave -- she showering and wishing he turned the volume down, him hooked to grainy images of Saurav Ganguly [Images] -- one of them vanishes, and the resultant mystery is unsolved forever.
Well, or so says a cop played by Vinay Pathak, who, like any of the characters in this film, may or may not be at all credible. He tells this semi-mystery at a small musicless get-together. Over scotch and speculation, everyone around starts chiming in with their version of the story -- their objective, fictional decisions with the husband and wife characters clearly giving us a glimpse into their own selves.
So as said, it's a pretty neat premise -- in theory. The film itself goes tragically awry as first-time director Arindam Nandy ends up pigeonholing a potentially strong ensemble cast into looking like rank amateurs by making them act perpetually in the key of the obvious.
They aren't all bad, you know. They're fine actors doing the best they can with lines that are thickly contrived and situations that ask them to be caricatures. Rajat Kapoor [Images], playing a good-humoured, greying newspaper editor is the best of the lot, spirited and likeable without once letting the mask slip -- and I'm not just biased because he's called R Sen in the film.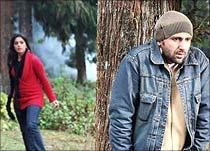 Pathak appears to by now have found such a rich purple patch of form that even his weaker innings seem like most films' strongest, and his cop works well too.
Particularly charming for me was the bearded Prashant Narayanan, a strong actor handling tricky scenes -- the only one in the film who had some nuance to his lines, really -- with breezy, gritty confidence.
The pretty Simone Singh wasn't bad, either, while Parvin Dabas didn't have anything at all to do.
The problem lies in the leads. Kay Kay, the film's 'main lead' -- in a manner of speaking, that is -- is frankly quite a letdown. So immersed seems this otherwise impeccable actor in the need to seem believable as a young, impetuous lover that he overdoes it entirely. He postures, he overplays, he loses control frequently, hurting the film immeasurably.
Collateral damage is also inflicted by the painful Sandhya Mridul -- half-perfect cast as an insufferable drunk, except she can't play drunk -- and crucially by Sonali Kulkarni, so ridiculously shrieky and agonisingly whiney that it's hard to imagine any one man in love with this character, leave alone two.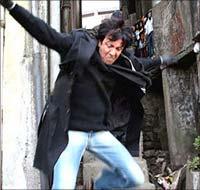 Sure, there are a few nice touches. The director uses novels as question-marks through the film -- before the vanishing, the book on their bedside table is Marquez' News Of A Kidnapping; in the bookstore she leafs through Kathy Lette's How To Kill Your Husband -- and there is a poster of a B-movie about 'Confessions' just above Dabas' head as he stands in a smoky bar and spills his guts.
The actors actually manage a realistic Bangla accent; make a reference to Kanchenjunga Ray's first colour film; and listen to music on Sonodyne speakers. Simple touches all, effective enough to remind the audience of the comfort of watching an indie film.
Yet the script, despite its footloose ambition, is eventually as half-baked as the characters. I'm all for non-linearity and multiple points of view -- and as many storytellers as you can reasonably cram in -- but the essential problem with Via Darjeeling is the main story itself. The scrap of story the cop tells the dinner guests isn't fascinating enough to dominate a drawingroom-ful of conversation all evening, and their takes -- except for Simone's -- seem to be coming from absolutely nowhere, especially Rajat's. And the plot itself, the what-really-happened and its eventual lead-up to a climactic twist, simply isn't meaty enough.
My point, simply, is this: if a man kills his wife (or vice versa), but the audience doesn't care about either character, can we still call the movie a mystery?
Rediff Rating:

Want to see this movie? Check out Rediff Movie Tickets!