Home > India > Movies > Reviews

No Magic in Thodi Life

Swati R Chaudhary | June 27, 2008 15:01 IST


| | |
| --- | --- |
| Still from Thodi Life Thoda Magic | |
| | |
| | |
| | |
| | |
| | |
| | |
Anand Rai probably tried to cash in on Yash Raj Films' Thoda Pyaar Thoda Magic by releasing his film, Thodi Life Thoda Magic on the same day, and plastering the film posters side-by-side. Unfortunately, the Jackie Shroff-starrer is vague, with many questions left unanswered, and is quite a bore.
The film begins with a frantic search for MK (Shroff), a simple, unpretentious and undemanding man, who finds happiness in the small things of life. He lives for the moment and materialistic things do not excite him.
MK is happiest when surrounded by underprivileged kids. His life revolves around ordinary people and in their happiness lies his happiness. But soon, he is transported to an extraordinary world, which does not go down well with him.
Debutant producer Saahil Chadha makes an appearance in the film as well. He plays Siddharth, the creative director in a media company, who is on the lookout for a simple face to complete his documentary on Mumbai. His ideas are met with dissent from his boss Aditya (Parmeet Sethi) but his wife (Anita Raaj) is very appreciative.
Siddharth is impressed by MK's simplicity and modesty, and selects him after auditioning several faces.
Writer Naina Jasraj (Meera Vasudevan) instantly connects to MK's simplicity and befriends him. Very soon, viewers go ga-ga over him as well. Soon, the documentary turns into a news-based television show, in an attempt to garner higher TRPs.
MK is made to anchor the show, and he goes through a troubled time.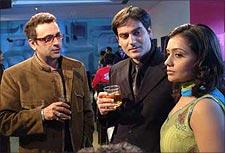 There's certainly no life and no magic in this film. After sitting through the two-hour odd ordeal, you crave for some funny, entertaining moments.
Jackie Shroff's [Images] over-the-top humility act is unbearable on most occasions. Arbaaz Khan [Images], who plays Naina's love interest, seriously needs some acting lessons.
Anita Raaj does well, while the rest of the cast are just okay.
Anand Rai, who directed the engrossing Kay Kay Menon-Jimmy Shergill-Sonali Kulkarni starrer Strangers, fails to create magic in Thodi Life Thoda Magic, thanks to its insipid script and lackluster performances.
Rediff Rating :

Want to see this movie? Check out Rediff Movie Tickets!