| | |
| --- | --- |
| Rani Mukerji and Saif Ali Khan | |
| | |
| | |
| | |
| | |
| | |
| | |
Advertisement
June 27, 2008 13:16 IST


While watching Kunal Kohli's new film, there was one particular moment I was seized by pure, nightmarish fright. After crying kids each individually took a few seconds to call on the heavens -- the little Sikh imploring for help from Waheguru, the elder girl saying hey to Bhagwanji, and the tiniest tot praying to God -- there is a scene where we see the big G Himself, standing with His back to the camera in a white suit, creating clouds and birds as he sees fit.

For a moment there, seeing his closely-shorn curly hair, I began to pray. To pray that this wasn't director Kunal Kohli himself, playing God in the most literal sense of the phrase. It would honestly have been a most literal slap across the face of the critics, a meta-slap to show that the director is indeed almighty in film and that whatever opinion we have doesn't even count. Fact, of course. Anyway, like the younglings, my prayers were answered, and Kohli this wasn't -- though now, with that cheeky idea in my head, I almost wish it was.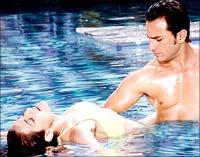 For that would have shown some quirk, some evidence of genuine creativity. Thoda Pyaar Thoda Magic currently stands as a serviceable children's film, with excellent special effects used haphazardly around a half-dozen old school Hollywood plots, but with no evidence of actual heart.
This is a moviemaking-by-the-numbers exercise, which might not have been such a bad thing by itself, if it hadn't been as goshdarned predictable. Right from the first frame to ten minutes into the film, you sit there knowing exactly what's going to happen. And while it might have been a while since I qualified as a kid, I still love their movies, and I'll be damned if kids want their films as unsurprising as with scenes ordered off a menu.
That is what it is, of course. Ah, let's give him a Lemony Snickets' style first encounter with the kids; let's give her a How-Do-You-Solve-A-Problem-Like-Maria style intro song; let her thwart his bodylicious girlfriend; let him win over Kid 1 (then 2, 3 and 4); let them fall in love; let us pretend, for the third act's sake, that there is an actual conflict point.
So I'm not going to into the story itself. I mean, you've seen the promos, and you are well aware of orphans, grumpy Saif Ali Khan [Images] and Rani Mukerji [Images] riding a pink bicycle over a rainbow... that's pretty much it, in terms of concept. Every scene seems pushed into place -- and lethally -- with motive, so we have one contrived moment following another, just with no time to emotionally connect with the characters.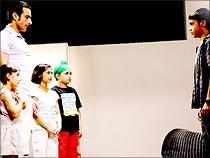 The kids are foreseeably cute. Iqbal is significantly adorable and deserving of screentime, Avantika had potential for some sort of breakthrough moment but remains largely shadowed by the others, Aditi doesn't nicely as a Dipsite used to winning -- must be young Shriya's Panchvi Pass experience -- and gangly Vashisht, the eldest of the kids, is burdened not just by scowls and tears but by the visible realisation that acting is harder than he'd been told.
Rani's role, as Geeta the impulsive angel, is a nearly impossible one. The actress surprisingly lacks the charm the role requires, and instead tosses in a  perplexingly Punjabified performance. It's the kind of role a young Madhuri Dixit [Images] could have done in her sleep, but here, with soporific screenwriters, Rani and her scene-salvaging grin aren't effective at all.
Hers is the film's main character, and this is the one that needs to hold the film together, and make the audience empathise with the kids -- and the scowling adult. Instead, she wears an unflattering dress and does her own thing, oblivious to the demands of the scene. She is among the strongest of our mainstream actresses, but cast as this movie's heart, she just doesn't tick.
Neither, really, does Saif, though it must be said he tries hard. A bit too hard. The problem with the leading pair is that while Rani doesn't seem to believe in the script and is acting along anyway, Saif seems convinced that he needs to follow the script to a T and project every emotion as in the cue-sheet, even if he has no bleeding idea why it got there. The result is Saif in a slapdash performance, one where he frowns so evilly -- nostrils aflare -- throughout the first half of the film that one could imagine him auditioning for Mogambo 2.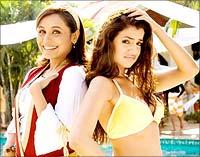 Credit where credit's due, however, and I must here take the space to apologise to Ameesha. Yes, she's added an E and dropped the Patel, for the record. I have previously gone on record and framed 'The Amisha Patel Theory', stating that her presence alone turns much cinema into disaster, but here I must admit Ameesha is the victim. She does better than Rani or Saif, plays a character who is humiliated despite never doing anything wrong, and is utterly, annoyingly believable.
Who knew all we needed to like Ameesha was that body poured constantly into R-Rated dresses? Seriously, I think there was a point where I saw a wee bit more Ameesha than anyone intended. So anyway, Ameesha, sorry for last time, and keep rocking the ludicrously tiny wardrobe.
One can now sit and nitpick about Judge Sharat Saxena's bizarre court order or Razzaq Khan looking like the scruffiest butler in history, but seriously, I'm more than okay with a fun film being loopy, even if its constant. We get that it's a basic kids' film, and aren't asking for realism or even heavily fleshed-out characters, but at least -- forget Chitty Chitty Bang Bang or Mary Poppins -- give us something like a Nanny McPhee, or at least a Splash?
Thoda Pyaar Thoda Magic distills the essence of classic children's cinema into a sort of attempted formulae. We know what's coming, and so we're pretty much okay with everything. It's a curious theory, but it doesn't quite work -- not when gruff overachievers suddenly turn into mush-spouting fairies and fairies themselves fall in love as soon as abruptly groped. Heck, even the end of the film builds up to a what-now climax but cheats out of it with such masala ease...
Sigh. Maybe we should just get the special effects guys to write the script next time.
Rediff Rating: