Home > India > Movies > Reviews

Not Ugly, but needs more Pagli

Raja Sen | June 24, 2008 15:33 IST


| | |
| --- | --- |
| Mallika Sherawat and Ranvir Shourey | |
| | |
| | |
| | |
| | |
| | |
| | |
Director Sachin Khot braces himself for a Bollywood debut with Ugly Aur Pagli, and while he has given the composing baton to Anu Malik [Images] -- not a man in form, shall we say? -- he hasn't really asked for the moon. All a zany comedy with Mallika Sherawat [Images] really needs, basically, is enough music for the stunner to groove to, so a servicable 'fun' album is all one can look forward to.
Does Malik deliver? Not quite, but man oh man, he tries.
The opening track, Talli, tries hard to cash in on the Ek-glassy-do-glassy song by Hard Kaur, using her as the intro singer and fusing standard-issue Punjabi 'patiala-peg' chirpiness with some generic dancefloor rhythm.
The problem lies with singer Anmol Malik, who has a distinctive voice, in the least pleasant sense. Perhaps it's only to sing this particular track's oh-I'm-sloshed lyrics that Anmol has been distorted into cacophony -- one can only hope she hasn't inherited her dad's vocal genes -- but the result is just annoying to the ears, not to mention repetitive.
The next track also boasts of extremely atypical vocalists, but Anushka Manchanda and Ishq Bector make Karle Gunaah work. The lyrics are pretty much Punjabi again, but Manchanda half-wails half-moans very effectively, pumping sensuality into the track. Bector (or does the uniformed man prefer to just be called Ishq?) sounds like a watered down Baba Sehgal, but gels nicely with Anushka. The beat's not bad either.
The real singers break in with the next track, and just with her pa-pa-ra-ra to kick off Ye Nazar, Sunidhi Chauhan's [Images] versatile vocals tell us we're in good hands. The track starts off with some semblance of promise but the chorus is repeated a couple times before an inane set of English lyrics rush in, trying too hard. Sunidhi's miss-a-breath vocals are pretty demanding, and she characteristically knocks them out of the park. Shaan doesn't have too much to do -- and perhaps, comes in too late. It's a track trying too desperately hard to flip genres like a bored housewife would flip through television channels, and resultantly, nothing sticks.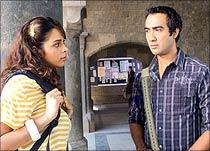 Next, Hardkaur returns with another version of Talli but this time she's partnered by none other than the composer himself. Anu Malik does a bit of a Himesh-meets-Baba (seriously, again. how come Anu didn't just hire Sehgal himself?) thing with his vocals, but at least the Judwaa-singer is vaguely refreshing enough to be actually fun. Significantly better version, this, making you wonder if Track One was an outtake.
Track five finally has Malik having fun the way he knows best. Titled Shut Up, Aa Nachle, the song begins with him crooning what could be either gibberish or actual Spanish before a couple of warm strings kick in and are soon joined by a trumpet-led band that sounds like it was nabbed at a Delhi wedding. Malik and Vasundhara Das ram through the shut-up-shut-up track with playful abandon, and while it doesn't sound particularly unique, it feels like a classic Anu Malik track -- fun, if you're into that sort of thing.
Then we're well and truly in remix mode, with yet another version of Karle Gunaah -- even more moaning this time -- and this right before there are two DJ Amyth remixes of Karle Gunaah and Talli. As predicted, nothing special here either, except the kind of music that'll throb through some subwoofers when better CDs aren't in arms reach.
Oh, and in the middle we have the one obligatory ballad, something so basic in both lyric and arrangement that it didn't even register the first time I heard the album. Yet there it is, a song called Yaad Teri Aaye by Mohit Chauhan, the guy from Silk Route. There's nothing at all wrong with the song, except that it's so darned typical.
Also, ever since Atif Aslam reinvented the power ballad, this basic song -- which could have been sung by Abhijeet or Sonu Nigam [Images] for any movie -- seems so decidedly 90s it almost makes the listener feel old for remembering this feel that well. The words are nice, the string are plucked with simple warmth, and the vocals are laidback. Nice in itself, but nothing special. Guess the most that can be said for this one is that it's mostly harmless.
Anu Malik has tried hard to go 'modern' with this album, clearly picking up on current market trends and trying to incorporate -- and replicate -- them to come up with something peppy and fun, but there isn't a single truly fun track on this album, and it's hard to imagine it catching on.
Rediff Rating:

Want to see this movie? Check out Rediff Movie Tickets!