First Look: Asin lands Vogue cover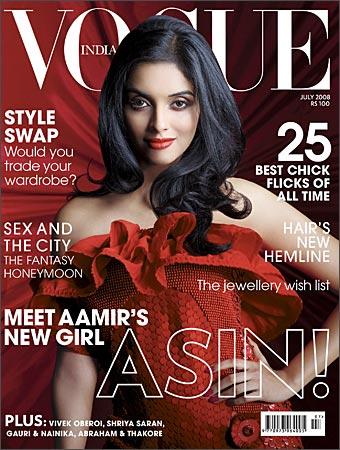 Look out, Bollywood. Tamil actress Asin Thottumkal is all set to make a huge impact in the Hindi film industry.
After her latest hit, Dasavathaaram, Asin will make her Bollywood debut opposite Aamir Khan [Images] with Ghajini. And as a prelude, the actress will be seen in Vogue India's July cover.
"The shoot with Vogue was really exciting," Asin says. "It was my first shoot for a fashion magazine, and I had lots of fun. The clothes are amazing -- especially the pink dress by Valentino. Most actors don't like doing still photo shoots but I love them. I'm very comfortable and I enjoy the clothes, looking good and freezing the moment."
Vogue India's July issue hits the stands today.