Home > India > Movies > Television

'It was a big challenge to play Lord Ram'

June 24, 2008 15:02 IST


| | |
| --- | --- |
| Gurmeet Choudhary | |
| | |
| | |
| | |
| | |
| | |
| | |
Gurmeet Choudhary takes over from Arun Govil -- the Rama that we've grown up watching on Doordarshan Network -- in NDTV Imagine's New Ramayan.
A 24-year-old actor, Gurmeet has done a Tamil film, a music video and just completed a film with Mukta Arts [Get Quote]. He talks to Rajul Hegde about how he became Lord Ram on screen, and how his life changed after that.
How did you get this role?
I had gone to [production house] Sagar Arts with a friend. I knew they were looking for Ram. Anandji [director Anand Sagar] said he had found his Ram when he first saw me. They asked me to give a look test and I was selected without an audition.
What was your reaction when you realised you are going to play Lord Ram?
I want to thank God and the Sagars for giving me an opportunity to play this role. When they first told me that they wanted to cast me as Lord Ram, I was blank.
I wanted to do something in films but when I got this role, I thought there could be no better break than this. Ram is a hero. He means everything to the Hindus. They worship him. So it was a big challenge for me.
What kind of preparation did you do for this role?
I am a Ram bakth [devotee] and so I did not have to research. I have read the Ramayan thanks to my parents, who stressed on the importance of religion. The whole team, including Anandji and Shakti Sagar [creative director] have done a lot of research on my look, smile, walk...
Everyone loves Ram's character. He loves and respects everyone and has all the good qualities. I won't say that I have all the good qualities of Ram but I was taught to respect elders. Playing Ram's character comes easily to me. I am a very quiet person and I don't talk to people much. But I am learning a lot of good things by portraying this character.
Have you watched Doordarshan's Ramayan?
I was a toddler when the old Ramayan was aired. I did not watch it now because I did not want to copy Arun Govil. I want to be original and create my own style and identity. Under the proper guidance of the Sagars, I was able to do this role.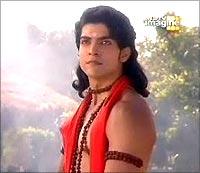 Did you have problem with the language since they Sanskrit and chaste Hindi?
My mother tongue is Hindi and I have worked in theatre so language was not a problem. The first 15 days was tough but later, I got used to the dialogues. I have being shooting for this show for the past five months, so I have got the hang of it. A few minutes before the shoot, I prefer being left alone so that I can say the dialogues and visualise the scene in my mind.
Do you think it was a risk to take a mythological show as your television debut?
Not at all. It is a dream come true to work with the Sagars, who have created history by making the earlier Ramayan.
I have finished shooting for Subhash Ghai's [Images] Cycle Kick. The film will have three heroes -- all newcomers -- and will be released in a couple of months. I have done a Tamil 3D film called Mayavi, a music video and a lot of modelling before taking up this role. Doing popular Hindi films was my priority earlier and I wasn't keen on doing television. But when I was offered this role, I grabbed it.
Do people compare you with Arun Govil?
You cannot compare two different individuals. We are from different generations. He created history. I started playing Ram only for the past four months. Ramayan has got good response, especially from the younger generation.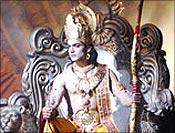 I was awarded the most promising new talent on television. Ramayan got the most promising new show of the year award.
Tell us about yourself.
I am from Patna, Bihar. But I have never lived there, as my father is in the army. I have travelled all over the country. Now, my parents are based in Mumbai. I have an elder brother, who is a doctor.
I have always wanted to become an actor since childhood. I took part in school drama and joined a theatre in Jabalpur when I was 18.
I work 12 hours a day. I read books and watch old movies whenever I relax. I have a fetish for glares and love to collect them.