Home > India > Movies > Reviews

De Taali deserves its taalis

Swati R Chaudhary | June 20, 2008 13:17 IST


| | |
| --- | --- |
| Aftab Shivdasani and Rimi Sen in De Taali | |
| | |
| | |
| | |
| | |
| | |
| | |
De Taali, as director E Niwas puts it, is a crazy roller coaster ride about three friends, a world where life is defined by friendship and love. And the film deserves its taalis.

We are introduced to three friends -- Paglu (Riteish Deshmukh [Images]), Abhi (Aftab Shivdasani [Images]) and Amu (Ayesha Takia [Images]) -- who swear by each other.

Paglu regales you with his antics and flop plans. He is the frivolous, happy-go-lucky guy, who helps Amu get close to the love of her life, Abhi. Abhi, in turn, is in love with Kartika (Rimi Sen [Images]).

Abhi has the tendency of falling in love with the weirdest of women -- from a kleptomaniac (Hrishita Bhatt [Images]) to a pyromaniac (Anjana Sukhani). He is unyielding in his relentless quest for love. He gets drawn to every girl he meets, mistakes it for true love and ends up with a broken heart.

Kartika has some dark secrets as well, and tries to seduce him into marriage, as she is drawn to his wealth. Of course, with Paglu and Amu around, this is not as easy.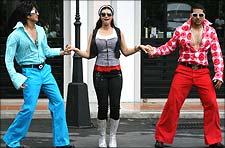 The film starts on an uninteresting note but catches up as the story unfolds. The friendly banter between Riteish and Rimi makes you smile. There are many more lighthearted moments in the film, along with mindless cameos from Pawan Malhotra and Saurav Shukla.
Riteish is lovable as the impish Paglu. Watch out for the scene when he takes potshots at Ram Gopal Varma Ki Aag. It will leave you in splits.
Ayesha is convincing as the tomboyish Amu, who turns on her femininity to get Abhi. Aftab and Rimi pack in good performances too.
But the most taalis go to director E-Niwas, who gave us a fun film after his dismal flop, My Name Is Anthony Gonsalves.
Rediff Rating:

Want to see this movie? Check out Rediff Movie Tickets!