Home > India > Movies > Interviews

The Rediff Interview / Pragjyoti Samal

Meet the first woman to win Rs 1 crore in Paanchvi Pass

June 19, 2008


| | |
| --- | --- |
| Pragjyoti Samal and Shah Rukh Khan | |
| | |
| | |
| | |
| | |
| | |
| | |
Pragjyoti Samal, a 24-year-old computer engineer from Bhubaneshwar, Orissa, is the first person to win Rs one crore on Star Plus' Kya Aap Paanchvi Pass Se Tez Hain.
Pragjyoti talks to Rajul Hegde what a crore means to her, and how she plans to spend the money.
Tell us about yourself.
I used to work with a software company called Cognizant Technical Solutions in Kolkata for the last two years. I quit 15 days ago to move ahead in life. But this is not because of winning the money. My father is a retired army officer and my mother is a university professor. My brother is also with the army. I have a younger sister as well.
You are the first contestant on Paanchvi Pass to win Rs one crore. How does it feel?
I shot for this episode on May 5. Since then, I'm on cloud nine! I went to the show with the objective of winning some money. But I never thought I would win a crore. It was a big surprise to everyone on the sets. Everyone was excited, and weeping with joy when I won. People in the audience were just waiting for someone to win.
How was your experience with Shah Rukh Khan [Images]?
I am not a very big fan of Shah Rukh but I have watched his films like Swades [Images] and Kabhi Khushi Kabhie Gham, which I liked.
Initially, I was nervous. But when I met him, he made me very comfortable. I felt he was a friend, who I'd met weeks ago. I never felt that I was meeting the Badshah of Bollywood. Now, I am a big fan of him and respect him even more.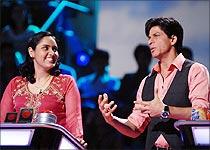 How was the experience on the show?
I am happy that I won a crore but what made me happier was that I got an opportunity to take part in the show. I've always believed in my intelligence and I was very enthusiastic about going back to school in the show. I was always a good student in school and college.
We shot for an entire day. The kids were amazing and everyone was very supportive. It was such a good opportunity to meet wonderful people from the audience, channel, production house, children and Mr King Khan [Images].
What will you do with the winning amount?
I still have not received the winning amount. I will not get the full amount, as one third will be deducted for tax. I have not decided what I will do with the money. I would use about Rs 10-12 lakh for my higher education in India or abroad. I will invest the rest. I will definitely use it wisely; maybe buy property or something.
Did you tell your family and friends about your win?
Only my mother, who was on the show with me, knows. I have not told anyone else. There is a big shock in store for them when they watch the show. My office colleagues knew that I had participated in the show and won some amount. But they did not know the actual figure. They were trying to find out and kept asking me whether I can buy a flat or a Mercedes car with the winning money. I told them to keep guessing.
How important is this money to you?
I wanted to do something in life but couldn't because of financial problems. This money is my freedom and will help me pursue my dreams.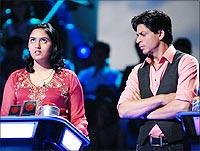 Do you think your lifestyle will change now?
I don't think so. I am a simple person. When we used to hangout with friends, we would think twice before going to Cafe Coffee Day. Now, that will not be the case.
When I returned to Bhubaneswar from Kolkata, my train got cancelled due to heavy rains. I spent the whole night on the platform. The next day, it was cancelled again but I waited for the train. If it is urgent, I travel by flight but if I have the time, I will not spend money unnecessarily.