Home > India > Movies > Interviews

The Rediff Interview

Making an art of serious cinema

Meghna George | June 18, 2008



Madhu Kaithapram's debut movie, Ekantham, won the Indira Gandhi [Images] award for the best first film along with the Hindi film Kabul Express. Tilakan, who played the central character in the film may have lost the best actor award by a whisker, but he has received a special award by the jury.

Ekantham portrays the plight of two brothers who are leading a lonely retired life. Murali, the protagonist in Priyanandanan's Pulijanmam plays the other major role in the film. Madhu has assisted director Jayaraj in some of his films.

In an exclusive interview, the director tells how tough it is to make and market serious films in Malayalam, which was once the haven for such films.

Were you expecting these awards?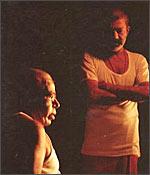 Of course, I wanted to win the awards but still, this recognition came as a surprise. I am happy that the jury found it good enough. Do you know the film was released with four prints?
What do you think that attracted the jury to decide in favour of Ekantham?
The film is about lost love everyone could connect with that. It is essentially the quest of a few people at a certain point in their lives -- their experiences and worries. The film's beautiful script was written by Alamcode Leelakrishnan.
How much of Ekantham has been derived from your own experiences?
I have brothers and such thoughts have happened to me as well. During certain times in our lives especially when we feel lonely and worried, we think about these aspects.
How difficult is it to make a serious film in Malayalam these days?
It is a misconception that the viewers are not ready to accept serious films. But the main problem is the difficulty in taking the film to them. The facilities here are limited and the major issue arises when certain people brand these films as belonging to a certain genre. Cinema is a mass medium and it is of no use if the films do not reach the theatres. It has to be done by those who are expected to encourage serious cinema. The question is whether that will happen here. Even debates about serious filmmaking and marketing never happen here.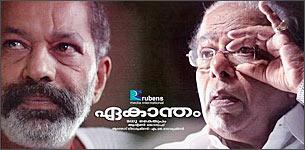 Is the film industry supportive towards serious cinema?
There is no doubt that everyone wants to do good films. Individually no one is to be blamed. Cinema is the culmination of the efforts put in by a group of people and this often makes it difficult to go on as per an individual's opinions. According to me, the main problem is when certain people start making judgments about the tastes of the viewers. There are certain lobbies which are working in this direction.
Who exactly is to be blamed for this plight?
I am not going to name names. Still, the unavailability of theatres is posing a major problem especially for the serious filmmakers. This situation wasn't there earlier. I think we have become too money minded.
Do you think the awards will make it easy for your next projects?
I think so. There is a certain acceptance that is expected along with the awards. Right now I am planning my next film with writer Anil Mukhathala.