| | |
| --- | --- |
| Silambarasan | |
| | |
| | |
| | |
| | |
| | |
| | |
Advertisement
June 18, 2008


A Canadian newspaper called him the 'Tom Cruise of India'.

That could be pushing it, since Tamil movie star Silambarasan, 24 -- 'Simbu', as he is more popularly known -- has very little marquee value outside of his native Tamil Nadu. But within that state, he is hailed, at least by his fans, as heir presumptive to the mantle of superstar Rajnikanth [Images].

Plus, seven of his 12 movies as an adult star [he has also acted in 15 movies as a child star, largely under the aegis of father and producer-director T Rajender] have been dubbed in Telugu, giving him a certain following in Andhra Pradesh. Last week, he headlined a star show at Toronto's Roger Center, and 34,000 people turned up to watch.

Silambarasan is in Toronto for an 8 to 10 week shooting schedule of the upcoming film Mr Poda and Mrs Podi, to be directed by schoolmate Vignesh Siva and produced by Roger Nair Production. The shoot is largely centered in Orillia, not far from Toronto. The young star has already visited Orillia, where he met Mayor Ron Stevens and City Council members.

Future plans include a projected 'Hollywood movie' -- that is to say, English language film -- to be shot in Canada [Images] and the US, budgeted at around $20 million and designed to cater to the international audience.

Have you shot in Canada prior to this?

No, this is the first time I have come to Canada, the first time I am shooting in this part of the world. Mostly, I keep travelling to England [Images], I have visited that country many times.

So what were your first impressions on landing here?

Except for immigration, everything else is fine. Once I have finished working on the script, and I know what my film is going to be about, the rest follows. When I landed here in Toronto, I was able to visualise my scenes. Like I said, I spend a lot of time in London [Images], but I knew I couldn't shoot this film there. When I landed here, I decided Toronto was absolutely fine with me.

Could you elaborate? How does this place go with your script, and what is your film about?

The director is Vignesh Siva, who was my junior in school and who I've known for a long time. When he came to me with the script, my reaction was, 'Oh God, this guy!' Then I read the script and I was really thrilled.

The movie is about this guy who comes from India, and falls in love with an Indian girl who was born and raised in Toronto. Obviously, the way the two of them think, behave, is totally different. What happens, how they meet, how love happens and what happens after that is essentially what the film is about. As of now, we haven't decided on the female lead; we are considering a couple of options, and want to have a new face, so that is not yet finalised. And yes, it is a happy ending.

We hope to start shooting by August 15; first we will be shooting some song sequences in Orillia, where the locations are really nice. There is a good waterfront, the Huronia Regional Center property, and the city's Victorian-style houses. The rest of the film will be shot in downtown Toronto. The crew will come over from India, and we hope to complete it in 8 to 10 weeks.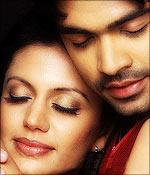 We heard you are planning some kind of 'Hollywood movie'?
I had met Roger Nair, the producer of this film, here, and we were discussing a script I had earlier done for Hollywood. He was thrilled, he really liked it. Right now, we are negotiating with crew and other talent; we hope to shoot in Canada and the United States. You could call it a fusion kind of film -- sort of a thriller, with a romantic interest, etc.
Will it be the usual Bollywood formula of songs, dances and such?
We can make all kinds of movies. When shooting for an Indian audience, you include those elements -- when you are doing an Indian movie for an Indian audience it is totally like that, you have to have songs, drama, love, all sorts of things. But when you are shooting for a Hollywood audience, I have to make the sort of movie they like, and my intention is to do a proper Hollywood film. I have never done this kind of thing before. I have written the script, now I am planning to associate with another script writer to develop it. We also think the crew and talent should be from Hollywood.
What in your opinion is the level of Indian cinema today?
I am totally happy with where we have reached. You will have seen that even the Ambani group has come to Hollywood, signed up big stars, are making big movies. Hollywood studios are making movies in India; the level of awareness about Bollywood, about the Indian film industry, is growing, and that is good.
You are just 24, how did you become such a big star at such a young age?
I should thank my father for that. My father involved me in a movie when I was just nine months old. My father, T Rajender, is a director, producer, actor, script writer, screenplay writer. He writes the lyrics for his own songs, he shoots and edits his own movies. He is the only person in the Indian film industry who handles about a dozen things at the same time.
People can tell you about the first time they faced a camera, about the first shot they gave -- but I was just nine months old when he held me, in a scene in one of his movies. Since then, I have acted almost continuously. When I was younger, I acted in movies meant for kids; the way my father brought me up, by the time I was twelve, he made a movie in which I played the lead role, the hero. I did 15 films as a child actor, and as an adult hero, I have done 12 films, all in Tamil -- I haven't acted in any English movie as yet. Six or seven of my Tamil films were also dubbed in Telugu and became big hits, so I have a good following in Andhra Pradesh as well.

How do you explain your tremendous following outside Tamil Nadu, outside the country?
Basically that is because of the Sri Lankan Tamils -- they are really nice people; they love me, they like my movies. Though they live far away, they can see me, speak to me, whenever they want. It is not just about Sri Lankan Tamils, though -- I love all Tamils, and they all love me.
How have you found the Indo-Canadian people, thus far?
I've met some people here, and I found they love me so much, they took such good care of me. I am so happy I am shooting a film here; the local people are giving me such awesome support.
When I went to the Roger Center for the show the other day, I could see a sea of people lining up, waiting to get in. I was told later that 34,000 people came. That is awesome; I really love the people here.