Vatican bans Da Vinci Code prequel from Rome churches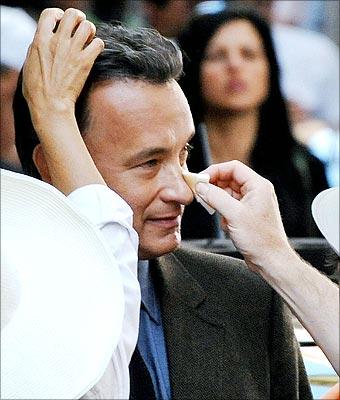 Tom Hanks and director Ron Howard will have a tough time filming two key scenes in their new flick Angels and Demons, based on Dan Brown's novel of the same name, for the Vatican has banned them from entering the Holy See and any church in Rome.
The new movie, a prequel to The Da Vinci Code, sees Hanks character Prof Robert Langdon on a mission to save the Vatican from being blown up by a canister of anti-matter.
With filming on, Sony Pictures applied for permission to shoot two key scenes inside the churches of Santa Maria del Popolo and Santa Maria della Vittoria.
However, the makers will now have to get the scenes shot on a soundstage because the diocese of Rome has declined from giving them permission.
'Usually we read the script but in this case it wasn't necessary. Just the name Dan Brown was enough,' the Telegraph quoted Father Marco Fibbi, a spokesman, as saying.
'Angels and Demons peddles a type of fantasy that damages our common religious beliefs, just like The Da Vinci Code did.'
Cardinal Tarcisio Bertone, the Vatican's secretary of state, added: 'Boycotting this film is the least we can do. The book and the film are a pot pourri of nonsense, a phantasmagorical cocktail of inventions.'
The crew has now shifted locations to Caserta, near Naples, where the former Royal Palace will double for the inside of the Vatican.
Tom Hanks's [Images] make-up is adjusted by a crew member as he takes part in the shooting of the movie Angels and Demons in Rome.
Text: ANI | Photograph: Getty Images