Home > India > Movies > Reviews

Summer 2007 has shades of Rang De Basanti

Nithya Ramani | June 13, 2008 19:04 IST


| | |
| --- | --- |
| A still from Summer 2007 | |
| | |
| | |
| | |
| | |
| | |
| | |
If you liked Rang De Basanti, there's a chance you may like Summer 2007. The film does not pack in patriotism, nor does it boast of stars. But it has a touch of humanity, and a noble story.
Summer 2007 opens with a peasant putting himself on fire -- depicting the Vidarbha farmers' mass suicide. The scene cuts to three medical students, smoking a joint on a hill, and chatting -- they are the typically rich friends, with no big worries in life.
The gang of five friends -- Rahul Sharma (Sikander Kher), Qateel (Arjan Bajwa), Bagani (Alekh Sangal), Vishakha (Gul Panag) and Priyanka (Yuvika Chowdhary) -- are indifferent to the world around them, and remain absorbed in their lives.
After an incident in college, the five pack their bags and head to a village for their rural internship. For them, this is really a vacation. And then, reality strikes.
As soon as they reach the rural service centre, an entire family of farmers poison themselves. Rahul and his friends cannot believe what goes on in the villages. They try to escape to Goa, but instead, they're dragged further and further into the farmers' tragedies.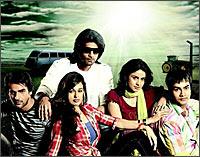 Like Woodstock Villa, Sikandar's acting is amateurish in Summer 2007. Gul Panag and Yuvika do well. Ashutosh Rana shows his versatility yet again.
Except for a song picturised on Sikandar and Yuvika, there aren't many songs in the film. But the music is pleasant and in sync with the film.
Debutant director Suhain Tatari does a fairly good job in making the film gripping, and laying down the hard facts. But he seemed too inspired from Rang De Basanti, and should try something new next time.
Summer 2007 is a hard-hitting film, but it would have worked even better if it had a good climax.
Rediff Rating:

Want to see this movie? Check out Rediff Movie Tickets!