Home > India > Movies > Interviews

The Rediff Interview / Priyadarshan

'I have never won an award in my life'

June 13, 2008


| | |
| --- | --- |
| Priyadarshan | |
| | |
| | |
| | |
| | |
| | |
| | |
He does not have the flamboyance of Karan Johar [Images]. Yet, Priyadarshan [Images] is Bollywood's top director, whose last five films have made a good Rs 150 crores in theatrical release only. The director is back with his new film, Mere Baap Pehle Aap, which releases today.
Starring Akshaye Khanna [Images], Paresh Rawal [Images], Genelia DSouza and Om Puri [Images], the film promises to be a laugh riot. Priyadarshan chats with Chief Correspondent Syed Firdaus Ashraf about his films and more.
You are the number one director in Hindi cinema today, as your films have made the most money in the last five years. How do you feel?
This is news to me. I am very happy but at the same time, I am a director who has never won an award in my life! My films have won 16 National Awards and many state awards but as a director, I have never won. So this is the biggest award.
I am expecting an award for my new Tamil film, Kanjeevaram. I think that's the best film I have made in my life. It's a hard-hitting, realistic film. There are no songs in it. It's a period film about the communist movement before Independence.
Does winning awards mean anything to you?
I don't make films for awards. I make films to entertain the masses. As long as the masses are happy, I am happy.
But if I don't get award in Kanjeevaram, I will feel bad.
Why don't you make a film like Kanjeevaram in Hindi?
You can't because Bollywood likes entertainment.
But we have had films like Taare Zameen Par [Images] and Black.
I won't put TZP in the category of Kanjeevaram.
But you have tried serious Hindi films like Kyun Ki.
No I tried to make a serious film but Kyun Ki was an entertainer. I thought if a film like Namak Haram could work, Kyun Ki would work too.
The main problem is that I cannot find writers, who will give me good scripts in Mumbai. Most of my Hindi films are remakes of my own films. I have exhausted my quota of remakes and have no more remakes left! The last remake I will make is Billo Barbar. After that, I will make original films.
Did you feel bad when Kyun Ki flopped. How is your equation with its star, Salman Khan [Images] now?
Salman has never worked with anyone else like he worked for me. He was on the sets at 5.30 am until the last day. On the last day, he told me next time, don't expect this from me. He was so disciplined. When the film didn't work, I felt bad for him. He is like my son Chandu, a brat.
Why don't you do Malayalam films?
I cannot because they have shoestring budgets. That's why I enjoy remaking my films because I can spend money on my own films, which I can't do in Malayalam cinema. Like, I could not make Garam Masala and Hungama well in Malayalam. My Hindi remakes are better than my originals except sometimes, the Malayalam actors perform better.
You have been working non-stop, giving out film after film.
I have always been a workaholic. In 1986, I released six films. It's always been like that. I feel bored if I sit for 10 days at home. I take only 30 days off for my family in a year.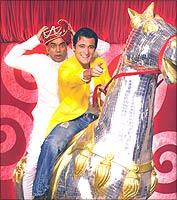 Aren't you tired of being repetitive with your comedies -- right from the Hera Pheri days to Mere Baap Pehle Aap.
I have a fascination for cartoons. No matter how many times Tom and Jerry fall, you never complain, and watch it again. I'm trying the same thing. My movies are from the children's perspective. Intelligent people cannot watch my films. I don't make repetitive films but others have started copying my style -- like they did in Dhamaal and Hera Pheri 2.
Mere Baap Pehle Aap does not have any slapstick.
What's new in Mere Baap Pehle Aap?
There's nothing new. It is a light film, like a Hrishikesh Mukherjee film.
How did you convince Shah Rukh [Images] to do Billo Barber?
I was supposed to do a film with Shah Rukh on a bank robbery. But he was busy with IPL and so he could not give me dates. So I gave him another script, and he loved it. He almost cried after he heard the story of Billo Barber. Irrfan Khan [Images] has the bigger role. It's a story of a relationship between a superstar and a barber.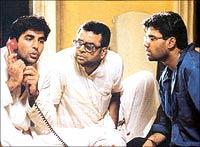 You tend to repeat your actors, but not your actresses.
I've worked with Tabu [Images] five films.
But you have worked with Akshaye Khanna, Akshay Kumar [Images] and Paresh Rawal repeatedly.
Men are not getting old but women are getting old faster (laughs). If I repeat a girl thrice, people will say I'm having an affair with her.
I prefer to work with newcomers. But producers get insecure because they feel they will not recover the money. So I am forced to work with stars. In fact, I am making a film with children for Percept.
I came to Bollywood to make money. If I don't make money for my producers, I will feel very bad.
Any wish list?
Yes. I want to work with Amitabh Bachchan [Images]. I am a fan of his. I have done commercials with him but have never got a chance to do a film with him. I wanted to do Hungama with him but he had date problems.
Who is the best actor you worked with?
Mohanlal, undoubtedly. He can jump without a duplicate from 25 floors. He is the best comedian and has won four National Awards. He is very flexible as an actor.
Why don't you make a Hindi film with him?
That's dangerous. Bollywood has never accepted heroes from the South. They only accept heroines. It's just like the South has never accepted Bollywood heroes, only heroines.