Advertisement
June 13, 2008 11:51 IST


What happens when a naughty kid gets hold of a ball of wool? He rolls it open and swathes it around the entire house, creating a terrific mess of complicated entanglements and accident-prone tripping zones.

Quite a few of Priyadarshan's [Images] comedies resemble such a scenario. They are insanely chaotic, and, more often than not, lead to nowhere. That wouldn't really be a valid crib if one got a few laughs and entertained in the process.

Mere Baap Pehle Aap kickstarts with a bikini-clad Mumait Khan [Images] soaking in the sun and sand, in the company of a dozen other equally under-dressed nymphs providing drool material for a lustful Om Puri [Images] and his tacky wig. It's like the makers decided to pack in as much forced hotness possible, in the first five minutes of the movie itself.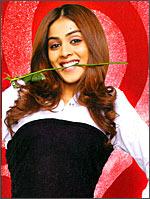 The next twenty minutes involve a salacious Puri convince his dough-kneading best buddy Paresh Rawal to help him bride-hunt who hasn't reached her 'expiry date'. Predictably, the mission goes kaput and they get in trouble with She-Cop [Archana Puran Singh, who else?]. Even as you recover from Singh's volley of bawdy metaphors, Akshaye Khanna comes to the rescue. And I mean that so literally [and gratefully]. The feeling doesn't last too long. Before you know it he's mouthing his own share of 'Bhains ki bachis!'

What's worse is that this entire caught 'n' rescued sequence is repeated thrice and in quick succession. Aesthetics, clearly, have no place in Priyadarshan's latest madness, said to be inspired by Malayalam flick, Ishtam. Having said that, Mere Baap Pehle Aap isn't a complete goner, either.

There are moments when you slip into your seat, comfortably viewing the effortless and endearing chemistry between Paresh Rawal [Images] and Akshaye Khanna [Images], playing an unconventional father-son pair. Paresh Rawal plays the perfectly adorable and compliant daddy to Akshaye's admonishing, authoritarian son. Besides exuding mutual warmth and taking well-timed cues, both the actors give each other respectful space, all of which is palpable on and off-screen.

Oddly, the significance of its title --son marrying off widower father to estranged childhood sweetheart [Shobana [Images] looking elegant as ever and clad in gorgeous saris. Too bad she's only required to frown or sob through the film] -- is realised alarmingly late in the film.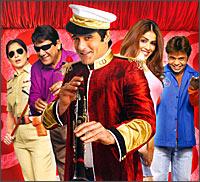 On the positive side that provides the romantic track, between Akshaye and the disarmingly lovely Genelia D'Souza, ample screen space to bloom convincingly. As evident in the super-duper Telugu rom-com, Bommarillu, Genelia, besides her apparent cuteness, brings in tons of freshness and traits to the youthful characters she chooses to play.

Speaking of characters, Om Puri is grossly miscast in a role tailor-made for Johnny Lever. The actor known for his electrifying performances takes the standard of hamming to an altogether unexplored level here. And you thought he has done it all in Buddha Mar Gaya. Also, whose idea was it to take so many unflattering close-ups of the guy?

The problem with Mere Baap Pehle Aap is its stubborn display of inconsistency.

It starts off like a B-grade version of Basu Chatterjee's Shaukeen, changes into a crazy game of Chinese Whispers, develops into a feel-good tale of a father-son and his fun-loving girlfriend, detours to do some heavy-duty Kerala [Images] tourism only to drastically meander into a old-fashioned social melodrama followed by a proverbial 'kahani mein twist'.

Rediff Rating: