Now, Mithunda's got his own comic!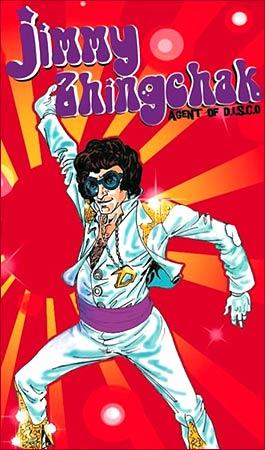 Remember Supremo?
We grew up with an awesome Amitabh Bachchan comic, referencing his life and films and with the writing supervised by Gulzar [Images]. But Star Comics only ever got around to a dozen or so issues, and we comic book fans grew up in a Bollywood void. (A blessed thing, perhaps.)
Now, however, is born another hero. A hero who might have started with art cinema and moved ignominously into B-cinema but has eventually become an icon for the impossible, a messiah of mediocre madness -- and the duke of disco. It's a no-brainer, this man deserves his own comic. Ladies and gents, bring out your agarbatti, turn up the Bappida synth, wear something that has bulbs on it, and rejoice.
For Mithunda is here. Aaaie saala.
Jimmy Zhingchak, Agent Of D.I.S.C.O is one of the latest comics on the Virgin assembly line, and the first issue on stands across the US right now. A collaboration between Virgin Comics and UTV Spotboy -- who surely want to make this into a film -- this is one mad trip down 70s road.
Writer Saurav Mohapatra channels his inner Manmohan Desai, tosses in a dash of Mad Magazine, and emerges with a comic that is likely to have Farah Khan [Images] chuckling awhile.
The plot goes as you'd expect it to: young Jimmy Grover starts seeing visions of a mysterious fat neckless man wreathed in necklaces, telling him that he's the one, that the force -- sorry, the Zhingchak -- is strong with him, and soon our boy Jimmy is battling toughies like Sir John and his nefarious henchmen: some oriental, some robotic.