Home > India > Movies > Interviews


Discuss |
Email |
Print | Get latest news on your desktop

The Rediff Interview / Sajid Nadiadwala

'Stallone was very impressed with Indians'

July 31, 2008



Producer Sajid Nadiadwala has managed to do what other Bollywood filmmakers could not -- rope in Hollywood stars in our movies. Thanks to him, we may get to see Sylvester Stallone [Images] and Denise Richards [Images] mouth some Hindi dialogue in Kambakht Ishq.

Starring Akshay Kumar [Images] and Kareena Kapoor [Images], Kambakht Ishq almost also saw Arnold Schwarzenegger [Images] in the film. But the deal fell through.

Sajid, who flew back to Mumbai to be with his wife, who just delivered a baby boy, chats with Nithya Ramani, and talks about the Los Angeles shoot with Sly last week.

What is Kambakht Ishq about?

The film is about a stuntman, who does stunt doubles for Hollywood actors. That's why we roped in Hollywood stars -- the script demanded it.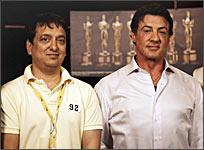 How did you manage to rope in Sylvester Stallone and Denise Richards?
We were trying to get in touch with Hollywood actors through various sources. We tried many actors and finally, we could get Stallone and Richards.
Arnold will not be a part of the film. We wanted him to play himself but things didn't work out.
What was Stallone's reaction on reading the script?
He enjoyed the script. He was very impressed with our way of working.
It was a great experience working with him. He is a director's actor. We have grown up watching his films. I have watched Rocky many times. It was like a dream come true, working with him.
How was your shoot with him?
We shot at the Kodak Theatre, Los Angeles. He was very punctual. All of us stood up in respect when he entered. Shooting with him was a very good experience. He does whatever the director asks him to.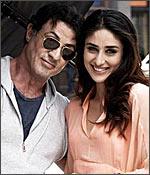 You were shooting at the Kodak Theatre, where the Annual Academy Awards takes place. Were you filming an award function?
We were shooting the Taurus Awards, an award given for the best stunts.
How was the rapport between Akshay and Stallone?
They gelled very well. Stallone was very impressed with Indians and our way of working. Akshay and Stallone would discuss their workouts, gym routines and trainings.
Was it tough explaining the scene to Stallone, as he does not understand Indian cinema?
It was very easy. He is like a baby in front of the director. He is as simple as anybody else. The only difficult part was getting them to sign the film. Once he had signed, it was smooth.
He gifted you his Rocky boxing gloves.
Yes, that was a momento. I will always cherish that. He was so impressed with us that he gave his boxing gloves to me. India has come up in a big way off late and people look up to India. Cinema in India is growing big time and people abroad have started recognising us. It is a matter of pride to get boxing gloves from Stallone himself.
How long are their roles -- Stallone and Richards?
Denise has an important, substantial role. We have an eight days shoot with her. Stallone has approximately seven to 10 minutes of screen time. We had a three-day shoot with him.
Email |
Print | Get latest news on your desktop