Home > India > Movies > Interviews


Discuss |
Email |
Print | Get latest news on your desktop

The Rediff Interview

'I thought the combination of Rajni Sir and Daler Mehndi was quite interesting'

July 31, 2008


| | |
| --- | --- |
| G V Prakash | |
| | |
| | |
| | |
| | |
| | |
| | |
It is not easy to be the nephew of A R Rahman, more so if he is a music composer himself. But G V Prakash managed to come out of the shadows of his legendary uncle with his very first film Veyil, itself. He also managed to bag a Rajnikanth [Images] film -- Kuselan [Images] -- at the age of 21, with the experience of just seven films under his belt.
Prakash tells Shobha Warrier more. Excerpts:
What was your initial reaction when P Vasu asked you to compose music for Kuselan, a Rajnikanth film?
I was shocked. The offer came as a pleasant surprise. You won't expect such a prestigious offer so early in your career. I have done only seven movies in my short career as a music composer. I thank him from the bottom of my heart and will always be obliged to him for giving me such a huge break.
Were you nervous initially because Rajni fans expect a lot from the songs of his films?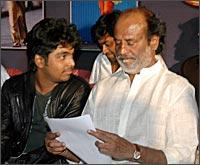 See, I have always been looking for something really challenging. If I have to choose between an easy project and a tough one, I will definitely choose the latter.
Was it the toughest so far in your career?
Yes. The scond is Selvaraghavan's Aayirathil Oruvan.
Why do you say Aayirathil Oruvan is a tough assignment?
The script is quite unique and that makes the job of the music director pretty tough. Of course, composing music for a superstar's film is also very tough. So, I had two very tough assignments at the same time.
How did you begin the work for Kuselan?
I started composing music with Vasu Sir. I first composed the duet, Om Zaarare followed by the melody, Sollamma. After that it was the opening song Cnema Cinema followed by Perinba Pechukaran. Then I did Nayanthara's song, Chaaral.
Was P Vasu hard to please?
No, actually it was easy to please him. Basically I knew what the requirement for a superstar film was and I knew how to go about it. I just had to satisfy myself first. I also gave Vasu Sir two to three options to chose the tune.
You have Daler Mehndi [Images] singing the opening number. Why did you think of him?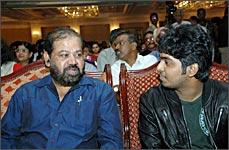 I needed a new voice as I feet you cannot have SPB all the time. When I want to make different music, naturally I wanted a different voice too. I thought the combination of Rajni Sir and Daler Mehndi was quite interesting.
Was it difficult for Daler Mehndi to sing in Tamil?
We took two days and after that, he sang both in Tamil and Telugu. He was quite co-operative and enthusiastic.
At the audio launch, Rajnikanth spoke about how you stood next to him and he didn't recognise you. He said he thought you were standing there to take a picture with him. Did that incident really happen?
Yes, it really happened. We first took a picture together and he was shocked when Vasu Sir told him that I was the music director of the film. Then he gave me a nice hug.
Was the presence of A R Rahman at the audio launch an unforgettable moment for you?
The stage itself was an unforgettable moment. All the big names in the industry were there -- KB Sir, Vasu Sir and AR.
Is it a difficult position to be in the industry as Rahman's nephew?
Not at all. It is not an advantage either. In cinema, being a nephew or a son does not help. You have to deliver the product, and a good one at that. Only if my song is a hit, will I get work.
But it must have been easy to break into the industry for you?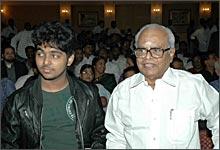 No, it was not. I got four projects dropped before Veyil happened. Shankar Sir would not give a chance to anyone who approaches him. He heard my tunes and gave me the project.
From whom did you get the most interesting comment?
From the superstar himself. After the audio release, he told me that the album has already broken all the records in sales. He also told me that is has broken the record of even Sivaji. That was more than enough for me.
How did you celebrate the success of Kuselan?
By composing with more vigour. It has been a rocking experience working with my favourite director Selvaraghavan in Aayirathil Oruvan. He is every youngster's choice.
What do you look for when you take up a project?
I look at the director, the team and the script. Only if I am comfortable, will I take up a project.
What kind of music do you listen to?
I listen to world music, background scores and jazz.
Do you listen to music while travelling?
No. Because I am always listening to music, so I need a break from music while travelling.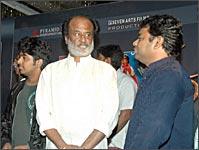 Are you up to date with Tamil and Hindi music?
Yes, I do follow them. If I find an audio interesting, I buy and listen to it.
What are you listening to at present?
Jaane Tu [Images] Ya Jaane Naa.
Which is your favourite song in the album?
AR's Tu bole...
Photographs: Sreeram Selvaraj
Email |
Print | Get latest news on your desktop