| | |
| --- | --- |
| Shriya Saran and Zayed Khan in Mission Istanbul | |
| | |
| | |
| | |
| | |
| | |
| | |
Advertisement
July 25, 2008 15:11 IST


Sometimes, one goes into a movie screening with absolutely no expectations and finds oneself pleasantly surprised to discover that it wasn't as bad as it could have been. In the case of Mission Istanbul [Images] even my low expectations remain unmet.

Let's recap. Zayed Khan [Images] plays Vikas Sagar, a leading Indian television journalist, who has just accepted a three-month familiarization assignment with Al-Johara (way to make the association without actually taking the name guys), a controversial news channel that wants to set up shop in India. His divorce goes through with Anjali (Shriya Saran) just in time for him to take up his new job without attachments or obligations. The official press release refers to a painful divorce but that pain is never really in evidence on screen.

In Istanbul, he is driven to the office of Ghazni (Nikitan Dheer), the man who runs Al-Johara, by Owais Husain (Suniel Shetty [Images]), a warrior-turned-war correspondent so that they can exchange CVs and the audience may see how cool these big screen journalists are.

Interestingly, the network boss takes his first meeting with Sagar in a tuxedo and then changes clothes for the nightclub scene that follows immediately after. I understand there was a clothing sponsor on this film but really, was that necessary? At the nightclub, Sagar also meets Liza Lobo (Shweta Bhardwaj), a femme fatale whose face twitches when it shouldn't and remains expressionless during dramatic sequences.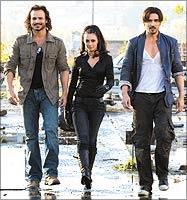 Needless to say, things happen. People are killed and Rizwan Khan (Vivek Oberoi [Images]), a Turkish 'commando,' pops up into Sagar's life to inform him that his life is in danger. Khan also tells him that he needs to access the thirteenth floor of the Al-Johara building to know the truth about Ghazni's 'Wall of Martyrs' and his organisation. And that's all the 'plot' I feel like sharing for the purpose of this review.
If memory serves, this is the movie that was offered to director Apoorva Lakhia, with the accompanying fat pay cheque, after the success of Shootout At Lokhandwala [Images]. It was not money well spent. In every single way that the director could make a bad choice in a sequence -- be it action or dramatic or (heaven help us) comedic -- Lakhia makes it in Mission.
Uncomfortably unfunny sequences linger on for seeming eternities while chase and action sequences are cut together so haphazardly that future generations of film students could write several inconclusive theses about why anyone would keep backing their escape vehicle into a van they've already got past instead of continuing on said escape.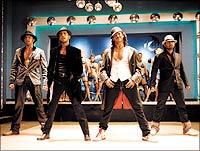 Both the male leads don't seem to understand what it takes to get audiences to suspend disbelief while watching a thriller. Oberoi opts for a knowing smirk while Khan looks like he's barely able to control his steroid rage. No opportunity to overact is missed by either of them.
The antagonists Shabir Ahluwalia and Nikitin Dheer are no better. Aforementioned wardrobe choices notwithstanding, there is little else to write home about either of their performances. And the ladies? Shriya Saran constantly looks like she's straining to remember her lines (or she's smelt something unpleasant) while Shweta Bhardwaj's simpering appears better suited for ads in the back pages of certain lad magazines than it does for the big screen.
Sequences, set pieces and plot devices are liberally sourced from such Hollywood fare as Enemy Of The State, The Siege, The Matrix, Swordfish and the Hong Kong actioner Infernal Affairs. The rest apparently came from the fertile imaginations of the director and writer Suresh Nair. One of which would be the blatant product and tagline placement for a fizzy drink done so horribly badly that I, for one, am never going to be able to pick up a can of the stuff again.
The film could have made interesting points about the economics of terror, the commoditisation of news and its sensationalised packaging as entertainment. It also alludes to various vested Western interests in keeping the region in conflict but takes that thread nowhere. In the final analysis, all the hints and allegations and things left unsaid cannot distract from the fact that as a piece of entertainment, or education, this mission is a failure.
In the US, the major movie studios sometimes adopt a practice of not screening for the press, certain movies that they are certain will garner bad reviews. Most often, this practice is adopted for genre films, specifically horror, which have built-in audiences and are therefore considered critic-proof. Tellingly, Mission Istanbul was not screened for the press. In that way at least, the filmmakers seem to have managed to become international.
Rediff Rating: