July 24, 2008 15:10 IST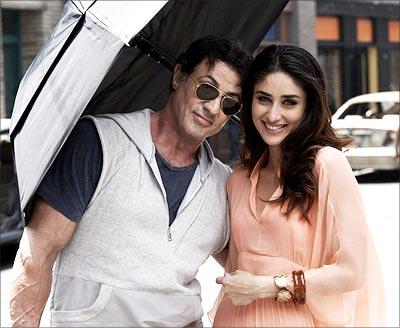 Here's something you don't see everyday -- legendary Hollywood star and Bollywood's hottest star -- together!
Yup, Sylvester Stallone [Images] and Kareena Kapoor [Images] are doing a film together titled Kambakkht Ishq.
It seems the Rambo star is so impressed with Bollywood's increasing international popularity that he decided to make an appearance in one.
The film, which stars Akshay Kumar [Images] in the lead, revolves around the tale of a stuntman struggling to make it big in Hollywood. Kareena plays Akshay's love interest.
Stallone is also is trying his best to convince his long time buddy Arnold Schwarzenegger [Images] to appear alongside him in the movie.
The film, which is directed by Sabir Khan, will hit theatres in December.