| | |
| --- | --- |
| A still from Moggina Manasu | |
| | |
| | |
| | |
| | |
| | |
| | |
Advertisement
July 21, 2008 13:16 IST


Kannada film, Moggina Manasu, is not as good as producer E Krishnappa's 2007 film, the blockbuster, Mungaru Male, but it works. With its offbeat theme, revolving around teenage girls, Moggina Manasu creates interest among the young audience. Great performances from the new talents, superior technical work by cameraman Chandrashekhar and good editing by Suresh Urs, enhance the film. However, more attention should have been paid to the screenplay.

Director Shashank showed promise in his first film, Sixer.  The second film for any director is very crucial, as it will prove his mettle. Shashank proves that he can tackle a range of subjects. In Moggina Manasu, he tells the story of four girls and their problems -- from ragging experiences to irksome boyfriends.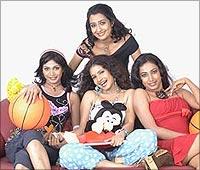 The story is fairly simple: Two girls are subjected to college ragging by their seniors. Later, the four girls become friends. The story traces how the girls -- all with different mindsets -- fall in love.
Newcomer Radhika Pandit shines among the four, and is bound to go places. Shubha Poonja proves that she can do a variety of roles. Sangeetha Shetty and Manasi have lesser opportunity to showcase their talent, but they make a mark in their respective roles. Of the boys, Yash is impressive. The other three -- Skanda, Manoj and Harsha -- do well too.
Music director Mano Murthy has belted out some good hits though the song, Naanu Iga Preethiyalli, is heavily inspired by A R Rahman's music in Subhash Ghai's [Images] Taal [Images].
Rediff Rating: