| | |
| --- | --- |
| A still from Aamir | |
| | |
| | |
| | |
| | |
| | |
| | |
Advertisement
July 21, 2008


Aamir was a small film but it made waves when it released a few months ago. Starring Rajeev Khandelwal, the film saw some interesting music as well. And we can thank 29-year-old Amit Trivedi for it.

The young Mumbai-based composer started composing music from the age of 23. After Aamir, Amit gets ready for Anurag Kashyap's Dev D, the modern version of Devdas.

Patcy N talks to him about his Aamir experience, and what we can expect from him.

Do you have formal training in music?

No. I learnt bits and pieces -- western classical, jazz and pop music -- from many musicians. Music comes naturally to me. I listen to lot of music, which has helped me in my learning process.

I started composing background music for theatre and serials at the age of 23. I was also a part of a local band called Om. After this, I did a bit of advertising for ads like Mac Donalds and Airtel.

How did Aamir happen?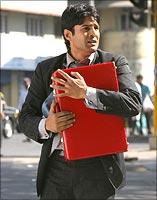 I met Anurag Kashyap through a common friend, when I heard that he was looking for a composer for his film, Dev D. I started working on that, when the project halted for a while. He then told me about Aamir and if I would like to see the script. He told me that his assistant Raj Kumar Gupta would direct it. I loved the script. While reading it, the music came naturally to me. I made Raj Kumar listen to it and that's how the music of Aamir was made.
What was the brief given to you?
There was no brief at all. I had a script and was told to work accordingly. My friend Amitabh [Images], who sang for the movie, has written the lyrics as well. The only tricky part was the placement of the songs in the film. That decision was taken by Raj Kumar and me.
What was the first song you composed for Aamir?
It was Ha Raham sung by Amitabh, Murtuza Qadir and me. It is picturised on Rajeev Khandelwala, when he beats the goons who robbed him of his red briefcase.
As I thought, there was too much negative energy in the action, so I decided to balance it by infusing the song with positive energy. So I decided to make it a Sufi song. After Amitabh was done with the lyrics, I arranged the song and gave it to Raj Kumar. He loved it.
The second song that came to my mind while reading the script was Haara, sung by me. As the script is driven by one character, I decided on the psychedelic rock track, as it plays with the psyche of the character.
What about the other songs?
There are five songs in the film. There was Phas Gaya sung by Neuman Pinto, which was supposed to be a promotional song. As Rajeev's character comes out of the airport, he gets into a bizarre situation. Hence, Phas gaya.
There was another folk song, Chakkar Ghumyo, sung by me. Then, there is Ek Lau is tarah kyun buji mere maula sung by Amitabh and Shilpa Rao.
How did you decide on the songs?
I don't plan anything. I just do what comes naturally. For example, I came up with the tune of Ha Raham while I was waiting for my friends to show up for a Twenty20 match. There I was mulling on getting a sandwich when the tune just popped into my head. I pulled out my cellphone right away and recorded the tune.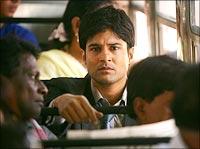 We haven't heard of some of the singers in the album. How did you choose them?
Yes, they are not your usual singers. I recorded Phas gaya in my voice. Raj Kumar liked the song and said I should keep it like it is. But I told him that I wanted to record this song in the voice of a person, who has never sung a Hindi song before. I knew Neuman, as we had worked together during our advertising days. I told him to sing in an anglicised tone and it came out well.
Were you always a singer?
No, I wasn't.
Did you ever go on the sets of Aamir?
Yes, I went for the shoot of Ha Raham. It was in Dharavi, Mumbai, and I was shocked at the filth. The crew was shooting with masks on, as the place was stinking.
Have you started work on Dev D?
Yes. We have 15 songs for Dev D. All the songs will be played in the background. There are four lyricists. I am also doing Condition Applied for UTV.
What kind of music is used in Dev D?
It has world music, Rajashtani folk, head-banging rock, street band baaja, an Awadhi song, Punjabi song and 1980's Euro-pop song.
What is Dev D about?
Dev D is about Devdas, Chandramukhi and Paro. I was told that it is about today's Devdas, who doesn't drink alcohol but is into drugs like cocaine and ganja. Chandramukhi is not a khotewali prostitute but today's school-going 16-year old prostitute. Paro is from Chandigarh here.
Devdas is called Dev D. His character is psychedelic so there are hard-rock songs. We have a lot of Punjabi and Awadhi songs for Paro. Chandramukhi is Chanda, a London-returned woman, so her songs have a western classical flavour.