| | |
| --- | --- |
| A still from The Dark Knight | |
| | |
| | |
| | |
| | |
| | |
| | |
Advertisement
July 18, 2008 17:35 IST


When super-villains want to scare each other," The Trickster once said, a fine practical joker in his own right, "they tell Joker stories."

Director Christopher Nolan has done just that, and he's done it with such flair that we're left begging for more.

The thing about a really great comic book is that each panel advances the narrative forward while staying unexpected and reassuringly original. And crucially, it has to all be so fantastically paced, that by the time we get to the last pages, we wish the story were longer.

And all I can say is that Nolan, with this masterpiece, has made a film so blessedly awesome that it deserves to have a graphic novel miniseries based on the film, instead of the other way around. That's as good as a compliment gets, really. And just like in those great issues, damn, I wish this 152-minute film was longer.

And no, this review isn't going to talk about the plot, the motivations, character traits or the finest scenes -- simply because if this was that mega-brilliant comic and you told me who-dun-what, you'd get punched in the mouth. Seriously, there are films that are way too good to spoil even a couple of minutes of, and this is one of them.

What must be talked about, of course, is Heath Ledger. The ridiculously talented actor we lost a few months ago plays his penultimate role in The Dark Knight, and he's the central character. Batman, for all his flaws and neuroses, always ends up playing a valiant second fiddle to one of the best villain-collections in all of comicdom.

And nobody trumps The Joker. Blow the backstory, says Nolan in one of the finest comic-to-screen decisions ever, as his manic Joker seizes control of the film with complete abandon -- and without the slightest hint of apology. He's a savage loon, and Ledger fills out the purple suit and the nightmarish grin perfectly. Menace in his every whimsical gesture, he licks at his scars like a mutant lizard in heat, his chalky make-up making onlookers long for the Bat instead. Anyone is less scary than that.

It is a showy performance, sure, but we are talking about the greatest villain of all time here. Ledger said he looked to Sid Vicious for inspiration, and boy, we believe him. It's a darkly disturbing, haunting performance -- one that leaves you gasping for breath, enthralled and horrified all at once. There are a few stray moments he overplays it, when he overdoes the weirdo-walk and the hand-fidgeting, but when he's talking, it's gold. And he talks a lot, Joker bless him.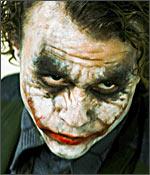 And true to form, he's a wildcard. Which makes even Bruce Wayne more than a little nervous. Wayne, truly coming into his own as a character, is at his most charming in this film, even though his verbal quips seem more Spider than Bat. Christian Bale is in great form, and it shows that he's enjoying the part. As for his Batman, this is the definitive version of the character, a solidly steely guy who twists his voice into a violently hoarse whisper to encourage the 'freak' perception he enjoys, this guy can lasso a truck and make it look real. Applaud, already.
The entire cast is actually good, save for the girl. While replacing Katie Holmes [Images] with Maggie Gyllenhaal for the Rachel Dawes character was a smart move, the character isn't. A bit of a namby-pamby, this whimperer slows the action down... but the boys bring it back.
Michael Caine is predictably fine as Alfred the butler, while Gary Oldman (as Lieutenant Gordon) and Eric Roberts (as Sal Maroni) get roles to sink their teeth into. Morgan Freeman plays inventor Lucius Fox, and would be likeable enough except for that same old know-it-all schtick.
The real character of the film, besides the Clown Prince of Crime, is Harvey Dent. Aaron Eckhart invests the goody-two-shoes district attorney with actual credibility, and we completely, as the campaign slogans say, 'believe in Harvey Dent.' And when the character transforms into the coin-tossing snarling baddie we all know -- and the remarkable makeup makes us wince -- the actor stays compellingly good.
Okay, so it's a long film. Worry not, the action comes thick and fast, and despite one car-chase setpiece going on a wee bit too long, it's always coherent. Nolan's spectacular action choreography is finally apparent with this film. While Begins moved in an ambiguous, shadowy blur, The Dark Knight gives us a ringside view so close we can almost see beneath Batman's cowl.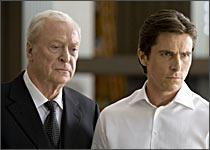 Please note: This is NOT a children's film. There is some serious violence of significantly graphic nature through this film, and the subtext weighing down Batman is shockingly incisive: Is his no-kill coda taking more lives than he can individually save? Can he truly right wrongs? And just how personal are his issues anyway?
Nolan, and the Caped Crusader, face the issues head on. And we get to finally see a big-screen Batman that lives up to our unreal expectations. A Batman movie that is as noir as it should be. And there really are no printed words to describe the adrenalin rush accompanying the first watch.
The best superhero film ever? Maybe I can answer that after I've seen it four more times. For now, all I can say is that it's the finest summer blockbuster in ages.
And that watching it makes you feel like you danced with the devil in the pale moonlight.
Rediff Rating: