Home > India > Movies > Interviews


Discuss |
Email |
Print | Get latest news on your desktop

The Rediff Interview / Rahul Vaidya

'I never expected to win Jo Jeeta Wohi Superstar'

July 14, 2008


| | |
| --- | --- |
| Rahul Vaidya | |
| | |
| | |
| | |
| | |
| | |
| | |
Rahul Vaidya walked away with the title of Jo Jeeta Wohi Superstar, a reality show that featured the winners and runners-up of the earlier reality music shows.
Rahul, who was the runner-up in the first season of Indian Idol [Images], beat Abhijeet Sawant and Harshit Saxena in the grand finale.
The proud winner was presented with a rockstar jacket and a cheque for Rs 50 lakhs by Shahid Kapur [Images] and Vidya Balan [Images]. He spoke to Rajul Hegde about his win.
Congratulations! How does it feel?
I feel good because this is not just another competition -- it had the best singers of various reality shows. I was very focussed, I had not slept well for two-three months. Every night, I would think of how to better my performance. I have put in a lot of effort, and  and lot of work. I am glad that has paid off.
What was going through your mind when the winner's name was about to be announced?
I was just chanting God's name. I was eliminated in Indian Idol so I know how it is to be out. I am glad my hard work has paid off.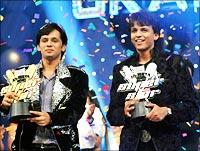 When you entered this show, did you ever think you would be in the top three?
Yes. But I never expected to win. I was hopeful and confident of winning but anything can happen in a reality show; it's so unpredictable. That is the USP of the show.
You have finally settled scores with Abhijeet Sawant, who beat you in the first season of Indian Idol.
We have been friends for a long time now. All three finalists have put in their best. I won because of the luck and support I got from the audience.
How did you celebrate your victory?
I want to throw a party for my friends and well-wishers. But I can do that only after I finish my prior committements.
Who was your favourite judge?
My favourite judge is Vishal Dhandlani. He is spot on, clear and very cool.
You had a crush on host Mandira Bedi [Images].
She is my favourite. This show could have not got a better host than her. She didn't throw her weight around, and conducted herself very well. I was scared of how her husband, Raj Kaushal, would react when he would see me expressing my crush for Mandira. Later, I learnt that I was his favourite.
Was the gold ring you received from your fan lucky for you?
I thank the fan for sending me the ring. It was a lucky charm, and I wore it throughout the show. There was no name on the parcel when it arrived.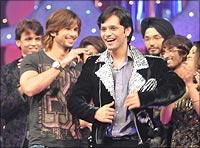 Your best performance on the show?
My best performance was Peeya Haji Ali. The best compliment came from [judge] Shekar Ravjiani. He said it was one of the best performances of the season.
What next?
I will not take part in any singing reality show as a participant in future. But I am open to reality shows.
My second album is almost ready and will be out in a couple of months. I got a very good response for my first album. I have travelled abroad and given shows. I like live shows because I can interact with my fans directly.
You are hosting a dance-based reality, Dance For Your Dream Wedding.
Yes. But I cannot divulge any details. I have gained lot of experience from my first show Jhoom India, as an anchor. 
In an earlier interview, you had said that you'll be making your film debut.
Yes, you will see me acting in a film in a year or so. I want to train myself in acting before I take up any films. I want to learn dancing also because I am very bad at that.
Where do we see Rahul Vaidya after five years?
You will see me as an actor.
Email |
Print | Get latest news on your desktop