July 08, 2008 14:28 IST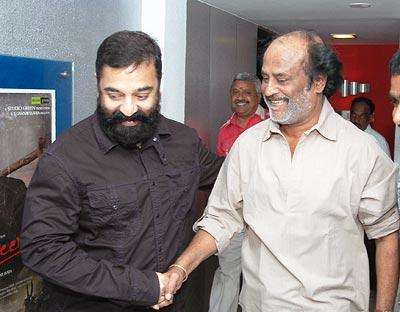 What happens when two superstars unite for a film? You expect fireworks, of course.
It's time for the fans of Tamil cinema to rejoice, as Rajnikanth [Images] and Kamal Haasan [Images] are all set to star in a film based on the life story of St Thomas, the apostle of Jesus Christ.
The film will be on the lines of Hollywood classics like The Ten Commandments and Ben Hur.
Produced by the Madras Archdiocese, the film will be financed by the Government of Canada [Images] and the Vatican.
Besides the two superstars, the film will also star leading stars like Ajith, Vijay and Vikram.
The film was launched by Tamil Nadu Chief Minister M Karunanidhi during the feast of St Thomas at Saint Thomas Cathedral, Chennai recently.
In the picture: Kamal Haasan welcomes Rajnikanth during a special screening of his Tamil film Dasavathaaram [Images] in June.