July 08, 2008 16:08 IST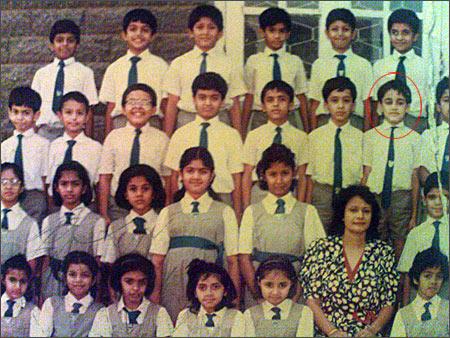 Reader Srujay Parekh sent us a class photograph of Jaane Tu... Ya Jaane Na's Imran Khan [Images] (circled), when they were in Std 3, studying in Mumbai's Bombay Scottish School.
Interestingly, Imran's mamu Aamir Khan [Images] studied in the same school for a few years.
After Std 4, Imran left Scottish, and moved to a boarding school in Ooty.
Srujay writes that Imran was a very nice child, who never misbehaved. He was a simple boy, who was a silent type, and always smiling.
If you encounter/meet/see film or television personalities and take a photograph or a video of the star(s), please scan the photograph(s) and
mail the pictures and video clips to us
. We will feature the best images and video clips right here on Rediff Movies.