| | |
| --- | --- |
| Deepika Padukone and Ranbir Kapoor in Bachna Ae Haseeno | |
| | |
| | |
| | |
| | |
| | |
| | |
Advertisement
July 08, 2008 17:36 IST


Alright, so we have another Yash Raj Films album. The classic Bachna Ae Haseeno song is all over the trailer, but what have Vishal-Shekhar done for themselves?

Not too much, honestly. This is a decent effort from composers capable of a lot more punch -- and surprisingly forgettable stuff considering this is the kind of film relying largely on packaging to pull in audiences.

KK's ever-refreshing vocals waft over the speakers, as he sings the opening lines to Khuda Jaane, and as is essential to all good romantic duets, he is ably complemented by Shilpa Rao. The song seems deceptively simple, but grows on you after a couple of listens. There's nothing extraordinary, but it's a soothing track that works unambitiously.

The same can't be said for the album's club track, Lucky Boy. Sunidhi Chauhan [Images] rocks the vocals, despite the undeniably irritating 'luuuucky booyyy' persistently in the middle of it all. Yet the track -- clearly made for one (or three) hotties to sizzle along, while Ranbir Kapoor [Images] ogles -- doesn't pack enough of a punch to be memorable or danceworthy.

The interesting thing about Aahista Aahista is the repackaging of Lucky Ali's vocals. Shreya Ghoshal does well too but this chillout track serves only to remind us of Ali's voice and how much we've missed those emphatically honest vocals.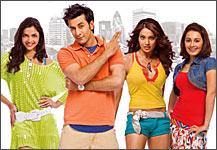 Boss, how can you have a YRF soundtrack without the dholak? Things go back to the basics with Jogi Mahi, where Shekhar Rajivani deftly takes on a storyteller role while Sukhwinder Singh gets the real singing bits, and sings them in his usual way. The song picks up tempo about halfway through, and Himani Kapoor does well with her part as well. Having said that, it's a song that makes five minutes seem pretty long.
Shankar Mahadevan [Images] heads behind the mike to take on Small Town Girl, a Tashany blend of English-Hindi-Punjabi words set to a distorted guitar. Mahadevan's fun with the vocals, and when picturised slickly -- with enough miniskirts -- this track'll hold our attention.
Now, Vishal and Shekhar know the meaning of the word remix, and Khuda Jaane (Revisited) is clearly intended to get stilletoe scratches across that dance floor. It's not very innovative but if the film is a hit, expect this one to be all over the New Year compilation CDs.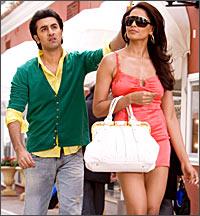 The first seconds of RD Burman's Bachna Ae Haseeno kick you into an instant grin, as the horn section loyally sticks to the great song we remember. And then we have an experiment, with Vishal rapping something vaguely, Kishore Kumar's son Sumit trying to ape his legendary dad, and then dad himself chiming remixedly up with the chorus. Vishal-Shekhar have pulled out all the stops for this track, and Sumit does well when he sings in a higher pitch.
Sure, we're all going to jive to this one, but isn't it just because of Kishoreda's voice? Call me old fashioned, but this really doesn't add anything to the original track, except the gimmick of son Sumit. I bet can the classic song would get as many people on the floor as this much-bling'd madeover version, and Majrooh Sultanpuri would never have written that inane 'run-for-cover/be-my-lover' rap.
Still, it's the finest song of the album -- by far. Just goes to show that RD still makes us move like nobody else, and that when Kishore Kumar sings, we're enchanted.
Rediff Rating: