Advertisement
July 07, 2008 12:24 IST


Bow to the Doggfather, y'all.

The rap superstar from the West Coast is riding high these days, with his latest Ego Trippin album a saucy return to form. He's the single most enduring rap/hip-hop success on either side of the Atlantic, both as an MC and a producer, and it's simply immense that the man has been roped in by Vipul Shah to come and get Bollywood into the right groove. Nobody does it better, and laced with random Punjabiness from RDB and Akshay Kumar [Images] himself, the mega opening track of this album feels like a Chandigarh clubber's wet dream distilled onto a CD -- man, it rawks.

This Singh Is Kinng opener is all Snoop right from the start, the man laying the funk down as he sings about 'all the ladies hanging out in Moom-bai' and spicing up the Akshayizzle like never before. The composition itself isn't anything too special, but the groove is really racy. The Punjabi bits by RDB are really generic, and Akshay's own vocals are amusingly enthu. Yet there's enough basic Doggystyle in here to thrill desi Snoop-fans, and this larger-than-life track ends with Snoop praising Singh but adding a 'bring me some grapes here, baby' postscript that 'D-o-g-g is also the king.' Word, man.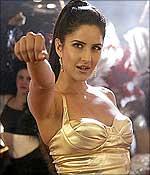 Track 2 Jee Karda tries to continue with the same upbeat BhangR'n'B feel, and while singers Suzie Q and Labh Jan Jua do an entry-level job, the track is sufficiently dancefloor-worthy. The entire track doesn't quite match up to the first few high-energy seconds though, and ends up a bit too long. Labh's voice sounds perfectly matched to Akshay Kumar though -- which could translate to a jackpot career.
Bas Ek Kinng starts up with a wannabe-Gangsta Rap rhythm, and it's refreshing to hear the now ubiquitous Hard Kaur sounding different -- well at least as the track opens. 'Dil agar sachcha ho toh Rab kar de sub set-ting,' ('If the heart's alright, God sets ya up tight') goes the fun refrain to rhyme with Kinng. The voices of Mika, Neeraj Shridhar and Ashish Pandit gel interestingly together as the lyrics continue to glorify and evangelise the ever-increasing majesty of the leading man.
Oh come on, you can't seriously expect a film about all things turbanned to not feature the one and only Ta-ra-ra-ra man. Daler Mehndi [Images] has a complete blast with Bhootni Ke, right from the opening lines as he yells out words, with unexpected hilarity, about a naked Akshay. Hardcore enough to make you reach for butter chicken, this track maintains its intensity and simply doesn't let up. Repetitive or not, Mehndi's aggro vocals are bloody infectious, and this is the Bhangra track to raise one leg to this year.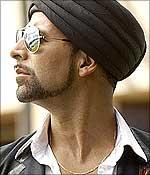 Shreya Ghoshal's on every single soundtrack these days, but while sounding soothing enough, her vocals fail to leave an impression in the lacklustre Teri Ore. Rahat Fateh Ali Khan is awesome as always, but significantly underwhelming compared to his usual output. The film needed the obligatory ballad, but thanks to the overdone percussion, this also provides the listener with the nearly mandatory track-to-skip.
Talli Hua is a perfectly acceptable ditty which only serves to underscore how close Labh's voice is to Akshay's, even as Neeraj throws a bit of a curve in terms of the vocals. It's an okay song, but by now the sheer Punjabiness on the album has become too thick to breathe, and it's clear that those who have never let their hair down to the stylings of Malkit Singh are not going to be able to sit through this album.
Now, the remixes. Bas Ek Kinng (Tiger Style Mix) starts with Hard Kaur hyping up the remix -- no wonder, since it's just a slightly-accelerated track featuring more of her. Interestingly, the Bhootni Ke (Tiger Style Mix) pits Mika as the vocalist this time -- he's good too, but Daler paaji clearly owns the song.
Remember Style Bhai? Well, he features on the Talli Hua (Jay Dabhi Mix) and while it's unfortunate to look at any rappers on an album where the Lord Dogg himself has already wielded the mic, the track overall does fine in a random dancefloor capacity. Nothing special at all though. The Jee Karda (Remix) is okay, but why don't our DJs alter the original tracks drastically enough instead of just speeding up the tempo and tossing in some random loops and bad rap?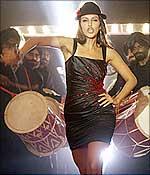 The Teri Ore (Lounge Mix) suffers from the same woes, and is resultantly Lounge-y only by name. In an attempt to end the album on a high, we have yet another Bhootni Ke (Remix) by Daler, but it's really not a patch on the fab original track.
Overall, this is going to be a highly divisive album. Not just are those who hate Punjabi music advised to skip the soundtrack entirely, but it's also pretty exclusively for Akki fans. Like soundtracks of the South that revolve blatantly around the leading man and his image rather than the film itself, this one indicates that Singh Is Kinng will really be about the superstar far more than it'll be about the script.
So yeah, if you don't like Akshay Kumar or Bhangra, this isn't your album. Then again, let Pritam Chakraborty's (composer) songs sink in -- it's his best work in a while (with no words on 'alternate sources' yet) and some of you might be converts.
Buy it, anyway. For the Snooperstar.
Rediff Rating: