Home > India > Movies > Interviews

The Rediff Interview / Siddharth Aanand

'Yash Raj has taken a risk with Bachna Ae Haseeno'

July 07, 2008


| | |
| --- | --- |
| Siddharth Anand | |
| | |
| | |
| | |
| | |
| | |
| | |
After the debacle of Tashan and Thoda Pyaar Thoda Magic, Yash Raj Films is pinning its hopes on its next venture, Bachna Ae Haseeno, starring Ranbir Kapoor [Images], Deepika Padukone [Images], Minisha Lamba and Bipasha Basu [Images].

Director Siddharth Anand, who gave us the hit Salaam Namaste [Images] and the not so successful Ta Ra Rum Pum [Images], will helm this film, while Vishal-Shekhar will score the music.
Shot in Mumbai, Sydney, Switzerland [Images], Amritsar [Images], Rome and Italy [Images], Bachna Ae Haseeno will release on August 15.
Nithya Ramani caught up with Siddharth, and quizzed him about the film.
What is Bachna Ae Haseeno about?
It is about the journey of a boy from the age of 16 to 30, who meets three girls at different stages of his life. What he learns from life and from the girls is what the film is about.
Ranbir plays Raj Sharma, a gaming expert. He is not a Casanova, he's like the boy next door.
Bipasha Basu is a glamourous girl from Mumbai, Minissha Lamba [Images] is a small-town girl from Punjab and Deepika Padukone is an NRI from Australia.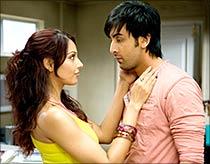 Why did you choose Ranbir? Do you think he will able to pull in the audiences, especially when his first film, Saawariya [Images], didn't do well? Why didn't you take Saif, who starred in your earlier films, Salaam Namaste and Ta Ra Rum Pum?
Ranbir is great actor, with a great fan following. He can easily look like a 16 year old as well as a 30 year old. I do not consider him a newcomer. He has the potential and of course, tremendous acting talent in his genes. Ranbir suited the character more than Saif.
Did you conceive the film's title from the old R D Burman classic?
No. The song was thought of later. The very fact that the film has three leading ladies and one hero called for the title. This title aptly suited the theme of the film. Only after half the film was shot, we decided to add the song in it.
Did you cast Deepika because she is seeing Ranbir?
Ranbir and Deepika started seeing each other after the film was shot. According to me, a star's personal life makes no difference when it comes to making films.
They look good together onscreen and off-screen.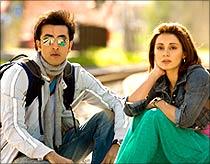 How was your experience working with the cast?
I was a wonderful experience. I generally become friends with my actors, and am more formal with my actresses.
I am in awe of Bipasha. Everyone will go weak on their knees on seeing her [in the film].
This film has a lot of resemblance to Shahid Kapur's [Images] Dil Maange More.
I have not watched that film, so I do not know if Bachna Ae Haseeno bears any resemblance to Dil Maage More.
Katrina was a part of the film too. Why was she dropped?
We had to drop Katrina because the film was getting too lengthy. The film was going way beyond three hours, and we did not want to extend it. That's why we dropped her. But I'm sure I will do a full-fledged film with her.
What do you have to say about the film's music?
Vishal and Shekhar have done an outstanding job with the music. I only hope the film does as well as the music. I am sure the music will be a hit. My favourite song is Khuda Jaane. The songs have been sung by Shankar Mahadevan [Images], Sumit Kumar [son of Kishore Kumar], KK, Shekhar, Shilpa Rao, Himani Kapoor, Lucky Ali, Shreya Ghoshal, Sunidhi Chuhan, Hard Kaur and Raja Hassan.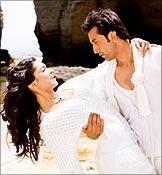 What do you think went wrong with Ta Ra Rum Pum?
I think people did not understand the message. They could not connect with poverty in a foreign land. That could be why it didn't work. Personally, I am very proud of the film.
Who do you think is to be blamed if a film does not do well?
The director. The film is the director's baby. If there is any mess anywhere, the director has to be blamed. If Bachna Ae Haseeno goes bad, please blame me.
Yash Raj Films have had quite a few flops recently. Do you think Bachna Ae Haseeno will do well?
It is not the banner's fault. You should blame the story. If the story isn't good, no banner can make the film a hit. YRF has taken a risk with Bachna Ae Haseeno.
What kind of films would you like to make?
I would like to do an action film. I tried different things with my earlier films. I want to move out of that and try a different genre.
Which actors would you like to work with?
Hrithik Roshan [Images] and Aamir Khan [Images].