Advertisement
July 04, 2008 11:46 IST


My favourite moment in Jaane Tu Ya Jaane Na -- and there are many -- comes early on, when Ratna Pathak Shah, playing Jai's mother, is shocked to see a sobbing Aditi being led into the house. Jai (Imran Khan) explains that she has just realised college is finally over. Aditi (Genelia D'Souza) nods, saying she doesn't know where the last five years vanished. Shah, fantastically supercilious and affectionate at once, delivers a line that will have mothers in the audience blowing wolf-whistles: 'On the phone, beta. On the phone.'

It's this kind of candid, relatable freshness that characterises Abbas Tyrewala's delightful directorial debut, a deftly made film about friendship, fibs, and falling for the obvious. Right from the film's opening, when AR Rahman's gloriously jazzy Tu Bole track floats Dolby-exploitingly from speaker to speaker, with just the film's name for on-screen company, a smile is thrust almost forcibly upon you. This is a film about 'feel,' your gut says -- and damn, it feels good.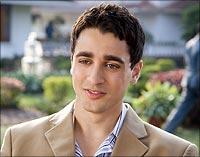 There's a pretty distinctive line between films trying to be innocent, and films that actually come across as charmingly naive as this one. On this thick line fall the saccharine and the overdone, the eager-to-please and the collegekids-aged-40, but what makes Jaane Tu special -- as is the case with most films about friendship -- is a rock-solid ensemble cast that is mouthwateringly perfect. Take a bow, casting director Pakhi, this is a helluva nice set of good actors, with refreshingly unfamiliar faces.
There's Imran, smooth enough to look like he shaves thrice a day, and a disarmingly natural actor who grows on you sneakily. Before you know it, you're totally buying his act. And it's a simple, candid, relatable act -- no frills, no fuss, no muscles, no attitude. For an actor to generate Like is much harder than to strike Awe, and Imran does laudably well in this regard. It's a solid, restrained acting job carried off with more dazzle than is evident. Heck, I don't know if he can bowl as fast as his namesake, but he could certainly wheedle his way out of the match even before the toss.
Download Jaane Tu... Ya Jaane Na Wallpapers and Ringtones
Khan plays the peace-loving Jai Singh Rathore, and he's the straight man in his madcap gang: Alishka Varde does well as Bombs, the slow one; Karan Makhija adds character as the pessimistic Rotlu; Nirav Mehta is excellent as Jignesh, the one persistent yet affectionately etched caricature in the film; and then there's Sugandha Garg as the spirited, nickname-giving Shaleen, full of spunk and so hot she makes you want her number.
Seriously though, the acting is top-notch all around. Ratna Pathak Shah is magnificent, and every single Hindi movie could do with some of her, Prateik Babbar bestows the film with angst and maturity, Jayant Kripalani and Anuradha Patel make a great affable couple, Rajat Kapur's fun, and -- I've been saying this for a while -- there is ample demonstration of the great, great good that can be had by a stay order coming in the way of Paresh Rawal [Images] being wasted by Priyadarshan [Images].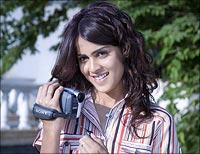 This, plus three awesome cameos. The first features a senior actor who finally looks like he's found a film to just have fun in; and the second two follow that up very well, a pair of siblings playing desi Marlboro Men with bindaas aplomb, and resultantly delivering the finest performances of both their careers.
The story? The scenes? Oh come on, go in fresh for this one and enjoy it unfold. It's anything but unconventional, an ImtiazAli-esque warm-blooded romance replete with confusion, off-key singing and a narrative cribbed from Forget Paris. The magic here, however, lies in the lines, the characters, the words, and yeah, a 'feel' as fresh as a spanking new acoustic guitar composition by a old jazz vet trying to make the kids smile. And smile they do.
As for producer Aamir Khan [Images], after Lagaan [Images], Taare Zameen Par [Images] and this one -- I'll eat your hat if it isn't a tremendous success -- it must be said that he's setting a new benchmark in terms of Hindi film production. Every technical aspect of the film is honed to perfection -- be it Rajeev Soorti's vivid cinematography or AR Rahman's marvellously fountain-of-youth soundtrack -- and the final product is so bloody polished it'll have other movie posters looking jealously at it in the foyer. And Aamir understands that God lies in the details, which is why it's no coincidence that Imran's bedroom sign 'deadlines amuse me' returns to bite the character in the posterior during that insane climax.
And ludicrous or not, the climax -- like a majority of this film -- works because of The Girl. Genelia is an absolute corker, all firecracker eyes and irrepressible smile. She has always been super in this genre -- check her out in the Telugu Bommarillu -- but seeing her in this film just makes you conscious of the spark that has been missing in Hindi cinema for well over a decade now. She's spirited and natural, playing a wildcat and a whimperer, and it's very hard to resist her. Abbas has used her perfectly, bringing her Aditi in every time your inner cynic might need a shut-up-and-smile punch. And she's a knockout each time, not just Kabhi kabhi.
Abbas underscores what the pretty Mala (Renuka Kunzru) realises at the airport, that the magic of a story lies in its telling. And the rag-tag bunch of narrators he's created do an absolute bang-up job. Sure it's the hero's vehicle -- and you can earmark this Imran lad as one to watch for -- but all love stories which have you falling for the girl are automatically magical.
For no matter how maddeningly filmi the climax, Aditi's smile makes you believe -- and love.
Rediff Rating: