| | |
| --- | --- |
| Shah Rukh Khan | |
| | |
| | |
| | |
| | |
| | |
| | |
Advertisement
January 31, 2008


In an extensive and uncensored interview, Shah Rukh Khan [Images] talks to NDTV 24x7's Managing Editor Sonia Singh about politics, his fab abs, the recent smoking controversy, and his dreams.

Here's the transcript of the interview:

Watch Shah Rukh Khan's interview on February 2, at 8:30 pm on NDTV 24x7, with a repeat telecast on February 3, at 9:30 pm.

Sonia Singh: Joining me tonight Shah Rukh Khan, a true NDTV Indian. Shah Rukh, what does the term 'Indian of the Year' mean to you?

Shah Rukh: I do not like the year part. I am very proud of the Indian part of it. I think in our own small way whatever little work that we do or what we stand for. See, I am a true believer in our hearts that we all want to do things for ourselves but in that, doing things for yourself some way down the line if it is reaching out to some other people. So my core job of being an entertainer, I am happy that the entertainment can reach a lot of people.

I also know for a fact or at least I believe at this point of time that the entertainment will not change the course of history, world or people's mindset. But some way down the line if it can reach out and touch a few people, I am proud. I think every Indian should attempt that in their line of work. I do not know if mine is completely capitalist or it has got some emotional connect also. Awards like the Indian of the Year remind you that to be a true Indian, you need to touch lives of other Indians in a positive sense. 

Sonia Singh: But it is interesting you said that, because for many people, cinema in India is not just entertainment, it is really a religion. As an actor, each film must be a huge gamble, you do not know what works. What went through your mind when you chose two of India's biggest blockbusters Chak De! India and Om Shanti Om?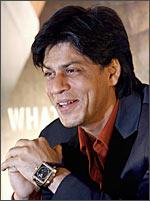 Shah Rukh: I am a spiritual about it in a strange sense. I do not choose films, I think films choose me.  That is the nicest way to answer this and not just boring you with details what goes into choosing a film. But I want to teach my children the ability to turn around with pride, tell their parents and teachers, 'I do not know.'
I follow that myself and I do not know if it is going to work or not, I just do it because it feels that nice at that point of time. I do not think I am a great professional who understands the cinema to such an extent. And I am not being modest. After 17 years, I still do not have the understanding of what is going to work, and what is not.
The young girls who never acted before (in Chak De), hockey, which I have played since childhood, a national sport, since a few good things and you know that it stands for a part of my philosophy, "Sattar minutes hain tumahre pass, isme itna chheen lo ke Khuda bhi tumse wapas na mang sake". 
So I believe you only have that little time in life. Om Shanti Om is wacky, demented, has a sense of humour, which is over the top. So I do not think it is nice to do. But I really do not know. I have done a lot of films that a lot of people say... do you allow me to say 'crap' on NDTV?
Sonia Singh: Of course, you are.
Shah Rukh: A lot of people say they're crap but they are all very dear. Because I did not know even after doing that, whether they were successful or failures. I still do not know.
Sonia Singh:  They all are your babies in a way.
Shah Rukh: Don't know, I am happy, I did it.
Sonia Singh: This year has been a huge year for Hindi cinema, we have also seen some of the biggest hits by different actors but it seems it has also become a bit of parochial in a way.  Suddenly all this about camps, people are working with certain directors. Does all that lead to lessening of experimentation? Do you think in a way we are becoming too rigid about what kind of films to choose? Big stars are only choosing films made by certain people.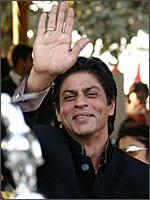 Shah Rukh: No, it is not true. Since I have been in the film industry for 17 years, I am not from America, I am from Delhi. I am an outsider. I have done well for myself in terms of creativity. Nobody ever questioned me where I come from and where I go. I have worked with everyone. They used to say Mr (Subhash) Ghai and Mr Yash Chopra [Images] and x,y,z directors do not get along well. I was working with them in the same year. They were all happy with each other's work. You are hero of the film and you hope your film does well.
I would like to maintain that 'camp' is a term which is only used by outsiders. There are no 'camps'. Obviously, there are reasons of affordability. But the biggest reason is the reason for comfort. If I work with certain people without having any knowledge, I would rather work with someone I'm comfortable with. Okay, I am an expensive actor to work, in the sense of love, sensitivity, kindness and care. I am very expensive that way...
Sonia Singh: Right, I am not getting into other pricing.
Shah Rukh: I do not take money for films. People say that's a joke, but that is true. I am very expensive. I want people to be very nice, kind. I am creating something and I think of myself as an artist. So I like that atmosphere. So I choose people I am comfortable with and I work with them. I have worked with different people. I have worked with Shimit (Amin, director of Chak De! India). I worked with Farah Khan [Images]. Fortunately for me, all the new people I have worked with have become huge filmmakers. So I will do a second film with them.
Sonia Singh: I know we all love to love Shah Rukh. But suddenly, there are films with snide remarks about your dancing at award ceremonies... not ours... but dancing at award ceremonies, doing too many ads. Does that criticism bother you at all?
Shah Rukh: No. Dancing at your award ceremony, it wouldn't be better then. Would it be okay if I dance? You can tell me if you want me to dance.
Sonia Singh: You can dance after this.
Shah Rukh: But then you cannot afford me. But to be really honest, I do not know why a lot of people say a lot of things. There was a time six years ago when I would not react nicely to it. Then one fine morning, I woke up and realised that whatever power that be, I can say hard work and talent and like whatever power that has given me so much. So it sidetracks. I know what I believe in, I believed in certain kind of entertainment with lot of purity and honesty and I would keep doing that. I would finally fail or die doing that. I am never going to change that, not because it works but because I believe in it.
Yes, you should try to earn money; it is good thing to do. I tell that to every youngster I meet. So all the things that people say about me, my dancing... I am very, very proud of it. I am not a great dancer but I still dance, people pay me to dance.  They do not bother me any more. As a matter of fact, three days ago I was having dinner with some young actors and they told me that we want to do the same thing. We want to earn money, we want to do the cinema we believe in. So just keep smiling and not be bothered. I am not bothered, really, I mean it hurts sometimes. But it is lessening, the hurt is lessening.  So I am quite okay.
Sonia Singh:  I mean, 'logo ko kuch kahna hai'.  But what drives Shah Rukh Khan? That is an amazing drive you have, you do not give up, you keep going, you keep coming up with something new.  What drives you?
Shah Rukh: I think I hurt easy; I get disturbed if I do not win. And that is the general truth. But if I get disturbed, I do not give up. I have this saying which is very greedy and perhaps not nice but I say it to my kids, 'losing is not my option'.
When I say that, I do not say it with vengeance, anger, aggression. I think you need to pick up yourself, dust yourself and sit again I will give it another go. That's what I do every morning. I wake up and I say this is one aspect I would like to win, I would like to win not in a competition but I want to win myself from the last year, from the last expression, from the last work. It is not directed toward x,y,z.
And the second part is I want to end my career as an actor by bringing smile to the maximum number of faces. You know, I am driving in a car, I just come down at the airport and somebody just smiles for no reason, they just smile, they do not know even I am a good guy or not but they just smile. And that is the gift Allah has given me that I can make people smile.  So I want a lot of people to smile through the work and because people are giving me so much, I have to return it. So the drive is to get up every morning and say thank you through my work. I need to just get up and the drive is to say thank you.  I think it is a positive drive and the negative drive that I want to win.
Sonia Singh: You have just said what impact you have on the people. Does that responsibility ever worry you? We saw the recent controversy about smoking or not smoking. Some actors, and this is a big thing in Hollywood, they come out and make statements about what they think influences the politics in their country. Because they think, actors have a duty. Do you buy that?
Shah Rukh: As an actor, my duty is to act and I am true believer of that. See, I cannot dilute what I do by having too many things on my mind. I do not any which way endorse smoking or any other ill habit which is socially wrong and I tell children all the time, please do not smoke because it is the worst.
But I do not like anyone telling me personally what to do and what not to do. I guard that very, very strongly. There are times when I know the vulnerability of being a star leads to certain comments and things. I will not apologise for that. I am very arrogant about those things, the personal things. You cannot tell me how to earn a packet, you cannot tell me what to eat, what to wear, what not to say my wife, these are personal things. I guard that very jealously. Besides that, as a duty, I think my foremost duty is to act.
There are some parameters I have set to myself. I will not use a certain kind of language in a movie. This year, I would like to dedicate myself to make movies for kids, not childish movies but a movie for kids, take technology of Indian cinema further. 
But apart from that, if I am called upon to do a public service message, I do it. I do not know what duties I should follow. I think each one of us has been made by God to do one thing, and we should concentrate on that. I have just about started doing the acting right, so I do not want to lose out the opportunity of learning more. But if I am ever called for my viewpoints, I do not say them -- not because I am a hypocrite or coward, but because they get misinterpreted.
Smoking in a pubic place can get misinterpreted, being at a cricket match can be misinterpreted. So I am not going to say something which is very strong politically, which will get misinterpreted because half the people think that I am very close to the Congress and I am going to join politics.
Sonia Singh:  So you aren't?
Shah Rukh: I am very close to Priyanka, Robert and Rahul, but personally. There is another friend of mine, called Raman Sharma. He is a pilot. That does not mean I am learning how to fly. I have another friend, who is a software engineer. That does not mean I can design software as Azim Premji [Images]. So these are my friends and what they do selflessly. I think politicians are very selfless. But what they do as a job is incidental to my relationship with them. They are friends and they also consider me that. I tell everyone, why don't you ask them, 'are you going to join films?'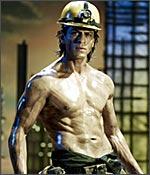 Sonia Singh: As you had said, you have had such an amazing year. But nobody could believe that a man with such a severe back problem -- I think you had a slip disc -- came up and managed to the six-pack abs. People said it is air-brushing, surgery... What is the secret behind this, Shah Rukh?  And no, I do not want to see them!
Shah Rukh: No, I won't show them to you! It is lot of hard work. I will just say something which is cheeky. You know, a lot of guys who used to tell me, 'body nahi hai Shah Rukhbhai', and 'macho nahi lagate hai aap'. 
I used to tell them, 'mein to body bana longa, tum acting kaise sikhoge'?
So I just wanted to prove myself. The reason being I am very attached to my family and my son thought that I was fat. My son told me, 'Papa, you're fat.' I didn't think I was fat. Nobody told me that I was fat. And I told him that, listen dude, I am not fat, I am okay. But he said, 'No, you are fat, papa. There was this boy, who I got into a fight with. He said your papa is fat and I could not fight with them because you are fat.' So, I said okay give me some time and this film (Om Shanti Om) required it and I wanted to have a physical change. 
I do not think people understand this. But I take my acting very seriously. I just do not speak very seriously about it. I do not act as if I am a great thinking actor but I think it very seriously. One should have more than physical difference from the other characters. It should be more than just putting a moustache or just doing some getup.
I got very hard at it. People said 'airbrushing', so go and do airbrushing. People say surgery, so go and get a surgery done. I also made it a point that post the film, I will not flaunt it. If it is required, I will do it. A lot of people told me, 'can you do a photoshoot without your clothes?'
I said no. This was just for this film, like the beard for Chak De. But I have started liking (my abs) and am addicted to it now. So I am retaining it. It looks nice when you are taking a bath.
Sonia Singh: Shah Rukh, don't say that. You could have all your fans lined up at your bathroom door.
Shah Rukh: I am such a capitalist, I will charge for that.
Sonia Singh:  Okay. Tell me Shah Rukh, a role which is actually captured the real Shah Rukh.
Shah Rukh: See, the struggle is that, to be able to play me one day. Everyone tells me, those are mannered and those are crutches and the way I act. But the idea, the ultimate day for retirement would be if I can just play me. The most difficult thing for an actor, I believe, is to play yourself. I do other characters because I do not like me. The idea is to be able to, one day, play someone I do not like and that would be me and my attempt is that. So, Inshallah, one day I will manage it.
But every film that I have done have parts of me -- Dilwale Dulhania Le Jayenge [Images] had a part of me, Kabhi Haan Kabhi Na had a part of me, Kuch Kuch Hota Hai [Images] had a part of me, but that had a younger part of me. I think Chak De has, Don has a lot of me, Baazigar [Images] has...
Sonia Singh: All those are slightly grey characters.
Shah Rukh: These are some base elements that I have. I would not use them in society or in my life. But it is great to be able to give them by playing it. Now I like, 'Don ko pakdna muskil hi nahi...' I enjoy that. They are very close to my heart because there is a part of me in it. I do not know if in one lifetime as an actor, I would ever manage to play me. But that would be the ultimate.
I am not claiming that it would be quite interesting, it could be quite boring. But it would be nice as an actor to achieve that plane of acting where I just play me.
Sonia Singh: Besides you, who would you cast as Shah Rukh Khan from the current film industry?
Shah Rukh: I do not know.
SONIA SINGH:  There is only one Shah Rukh Khan.
Shah Rukh: No, no, no. I am sure there are guys better than me. But if I take one name then I am not being right to a lot of good actors.
My life is like a movie. He comes from Delhi, lost his parents, has a dream, sort of fulfils it and talks to NDTV and talks about it and casts him. The character is so wonderful. I think anyone would be able to play it. I think it is a movie and I hope movie does not end.
Sonia Singh: Any role in a 2007 film which you wish you had done?
Shah Rukh: No, I stop doing that, choosing roles which I wish can do or will do. The way I have gone now, I believe -- and I am not being pompous -- that give me any role and I will make it the best role possible. But I really enjoyed being the quizmaster in Kaun Banega Crorepati. I really had a great time doing that. That is the closest I have come to playing Shah Rukh Khan. Like, I have that sense of humour, I like people and I am kind to them.
Chak De was very interesting because it was a lot like me, when I am doing homework with my kids.
Sonia Singh: You are tough taskmaster. 
Shah Rukh: They say, 'papa, you play that exactly how you do homework with us.'
And Om Shanti Om is really nice. I think 2007 had perhaps the best work of my life. I may not be able to do it (again) and I may not get any award from NDTV again. So I doubt whether I will ever get the Indian of the Year Award entertainer.
It has been 17-18 years (in the industry) and you get a couple of great years. This was one of them. And I do not think it will get better than this. I will get roles and x,y,z awards but it wont get better than this.
Sonia Singh: No, I am sure. Tell me, where does the cheeky side of Shah Rukh Khan come from? Where does those little quips on and off screen come from?
Shah Rukh: I was taught by my father that if you add humour, life will be much easier. Pranoy (Roy) was telling me to ask the Prime Minister a question. I would have asked him if he would still remember the movie. Can he remember the name of the movie...?
I think people understand. I do not mean it with malice or I am not trying to undermine or disrespect anyone. I do it because everybody should laugh. Making people laugh comes naturally. I do not prepare for it. I mean, I do not sit down and read books. I like the fact that I can crack a joke and sometimes get away with it; saying things which are very serious.
Sonia Singh: Any unfinished dreams? What is left for Shah Rukh Khan? Lots more, I hope. But for you particularly... Do you want to scale Mount Everest [Images], something like that?
Shah Rukh: Work-wise, I am doing good. I am happy with what I have done and achieved. And hopefully, I will continue to do so as long as I play myself. But it is not something like a dream. I would like to give good education to my kids. And not just through school. I think in Dhirubhai Ambani School, they are studying very wonderfully. But besides that, I would like them to be educated; I would like them to be young educated Indians. That is the dream. That is more difficult to do that just saying it.
I like to think it as a dream at this point of time, my greatest fulfillment in life would be if I can educate my son and daughter to be young educated Indians of caliber, do something for the nation in whatever line of work they do. They need not be politicians, businessmen, actors, whatever job they want to do. I just hope that they help the country with their education.
Sonia Singh: In many ways, a proud father, a great husband and fantastic actor and of course, an Indian of the Year Shah Rukh Khan, thank you so much for joining us.
Shah Rukh: Thank you very much and bless you.
Watch Shah Rukh Khan's interview on February 2, at 8:30 pm on NDTV 24x7, with a repeat telecast on February 3, at 9:30pm.