January 28, 2008 14:21 IST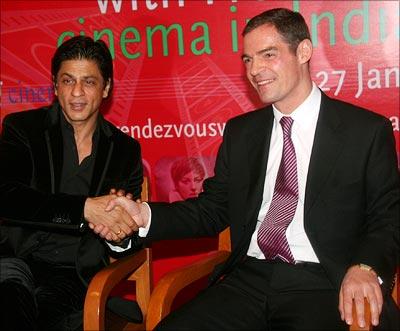 Shah Rukh Khan joined the ranks of Hollywood stars like George Clooney [Images], Leonardo Di Caprio [Images], Clint Eastwood, Mery Streep and Bruce Willis [Images] after he was conferred the French honour, Insignia of Officer in the Order of Arts & Letters.
In a glittering event on Sunday in Mumbai, the French award was conferred to Shah Rukh by the Ambassador of France [Images] in India, Jerome Bonnafont.
"Shah Rukh Khan [Images] has taken Indian cinema to the world and made it popular," said Jerome, adding, "Last year, I watched his film, Om Shanti Om. It was joy for life and thoroughly enjoyable."
The Order of Arts & Lettres, created in 1957, is one of the four Ministerial Honours of the French republic and was established to reward artists who have gained fame for their works in the field of arts and literature.
Shah Rukh Khan's first major appearance in France was in 2003, when he promoted his film, Devdas, at the Cannes [Images] Film Festival. Director Sanjay Leela Bhansali [Images] and costar Aishwarya Rai [Images] accompanied him.
"I thought we would go unrecognised," Shah Rukh said. "But people knew us and we were given a red carpet welcome, to my surprise. I felt like a star at Cannes. People clapped and cheered 'Bravo.'"
Shah Rukh also took France by storm during the shooting of Veer-Zaara in 2004 when hundreds of people gathered just for a glimpse of him in Paris. The same thing was repeated in 2006, during the shooting of Don in France.
"I feel humble to receive this award," SRK [Images] said. "I have never got any international recognition like this and I am touched by the gesture. Now I want to take Indian cinema further and further in my lifetime."
Then, he added jokingly, "A lot of people say that I cannot act. But it's okay. I want people to be entertained. I am like a clown, and my job is to make people happy."
Asked why France's most prestigious Cannes Film Festival does not give recognition to Indian films, Shah Rukh replied, "Actually, there is a technical issue involved. Our best films are released in the latter part of the year and Cannes festival is held in May. One of the festival rules says that films should be released at a certain time to participate at the festival and therefore, we miss the deadline."
Would he ever do a foreign film? "I have never been offered a film of substance," SRK replied. "Moreover, I think I have to do a lot of learning of Hindi films here."
"If you want to learn cinema, you must watch French Cinema. It is sensual and very creative. They have great cinema," said SRK, whose favourite French film is Leon, starring Jean Reno.
Text: Syed Firdaus Ashraf | Photograph: Pradeep Bandekar