| | |
| --- | --- |
| A still from Sunday | |
| | |
| | |
| | |
| | |
| | |
| | |
Advertisement
January 25, 2008 16:58 IST
Behind every murder there is a method, motive and mystery. Leave out one and you won't really get anywhere. Put it all together and you know who did it. The theory of crime and guilt, however, is hardly explored in director Rohit Shetty's comic thriller, Sunday.

Instead, the suspense flick, inspired from Telugu's Anukokunda Oka Roj, goes about finding missing clues with the same vacuum and puzzlement as faced by its key player Sehar Thapar (Ayesha Takia [Images]).

Sehar is an absent-minded dubbing artist for animation films who, after a strong dose of rophynol, wakes up to find one Sunday gone missing from her life. Thereafter, she's addressed as 'bhoot' by a taxi driver-struggling actor (Arshad Warsi [Images], Irrfan Khan [Images]) duo while a bunch of unkempt goonies make multiple attempts on her life.

While the obvious 'whos' and 'hows' pop in the viewers' head, cornetto-chomping bribe-philic cop Rajveer (Ajay Devgan [Images]) and sidekick (Mukesh Tiwari [Images]) make a dude-level entry into the picture, cashing a blonde-haired drug peddler through the roofs and terrace of Masjid Lane dwellings.

The implausible pieces and protagonists are somehow interlinked to each other courtesy two dead persons found in connection.

More whos, whats and hows lead to an utterly depressing and lame climax for which Shetty simply cannot be pardoned. I mean the entire movie is an exercise in building up a mind-boggling suspense. So how do you explain an incentive as lousy as what it eventually turns out.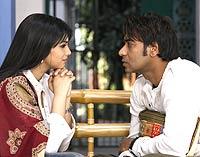 Another flaw worth nitpicking over is the muddling of genres -- comedy (something Shetty is quite comfortable with) and thriller, which struggle to do a balancing act in the dijointed scheme of going-ons. One minute Arshad Warsi is Circuit turned cabbie shot in the butt. Another he's a miserable, bechara types lamenting over his kidney ailment and shortage of funds. Warsi plays the self-created stereotyped of a fast-talking, wise-cracking jolly street smart fella with expected fluency.

Then there's an underutilised but brilliant Irrfan Khan (doing a hilarious take off on Ravana, Dracula, SRK's [Images] Don and Himesh Reshammiya [Images]), Rajnikant-inspired Chuckie Chan (Vrajesh Hirjee) and Salaam-E-Ishq [Images] discovery Anjana Sukhani slipping into the heroine's best friend mode. While Irrfan Khan stands out simply because he is a fabulous actor, others are simply time-consuming props in this plot-less parade, high on homosexuality jokes and low on intrigue.

Speaking of time, even at a mere two hours running time, Sunday feels longer than it actually is. Perhaps the sluggish pace and run-of-the-mill songs have something to do with it. Two of the songs feature Tusshar Kapoor (for luck?) and Esha Deol [Images] (to pitch in some glamour in a diva avatar?) making a special appearance.

Ayesha Takia, of course, is the leading lady of the enterprise. Seeing as the whole story revolves around her lapse of memory, Ayesha lends her Sehar tons of vivacity and vulnerability. Longevity in terms of screen time aside, Sehar is rather one-dimensional in her emotional reflexes. Even so, full marks to the spontaneous youngster for making the most adorable toon voices. He's no Amitabh Bachchan [Images], yet Ajay Devgan is suitably rakish and cheeky as a Shahenshah brand of police officer who often takes a joke on himself.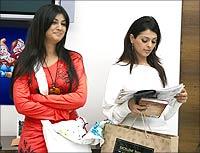 Unlike Khosla Ka Ghosla [Images], wherein Delhi's attitude and lifestyle is reflected in the film's language and characters, the Capital city plays a twin role here. On one level it is at the receiving end inciting remarks on Delhi police's efficiency (or lack of it), ever-growing crime rate and how it's getting increasingly unsafe for women, etc.

At the same time, cinematographer Aseem Bajaj pays a visual ode to the land of Qutub Minar and Red Fort [Images] with imaginative angles and ingenious lighting. Instead of a cliched sunset/rise shot against the backdrop of India Gate, you get to see the majestic Old Fort and Humayun's Tomb, intimidating Rashtrapati Bhavan [Images], chaotic Chandni Chowk and grand Jama Masjid in a new light altogether. Even an ordinary chase sequence turns into a super sleek one thanks to Bajaj's ability to think outside the box.

Contrary to Shetty's hit comedy, Golmaal which was consistently funny, Sunday entertains as long as it tries to be funny but isn't sly enough to find a mention in the archive of whodunits.

Rediff Review: