Meet Mr & Mrs Sanjay Dutt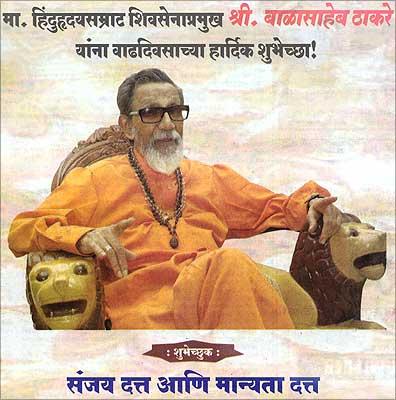 Sanjay Dutt has finally admitted that he is married to Manyata.
A half-page advertisement in Shiv Sena mouthpiece Saamna, which congratulated Sena chief Bal Thackeray on his 82nd birthday today, mentions the names of those greeting Thackeray as 'Sanjay Dutt and Manyata Dutt' instead of her surname, Shaikh Dilnawaz.
The ad says, 'Wishing a very happy birthday to Hindu Hriday Samrat' Shri Balasaheb Thackeray from Sanjay Dutt [Images] and Manyata Dutt.'
Sanjay had always denied his marriage to Manyata earlier, and this is the first time he has announced the union in public.
The Dutts have always been on good terms with the Thackerays, ever since the Sena chief intervened and bailed out Dutt from jail in the 1993 Mumbai bomb blasts case. In fact, a
fter he came out of jail in 1995, he went straight to Thackeray's home to thank him.
It is rumoured that Sanjay and Manyata got married on October 19, 2006, in Mumbai. It is also rumoured that the couple are shifting to a new home but no official statement has come from the Dutts.
In the picture: The Dutt ad in Saamna