Will Depp buy a Volvo next?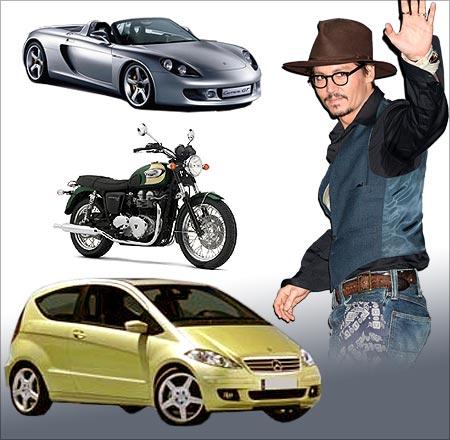 Johnny Depp has come a long way.
From an edgy independent actor, he's become one of Hollywood's highest-paid and most bankable superstars, and frequently features on any list of top actors of his generation.
He's also settled down, from the wild LA nightclub owner and notorious casanova to a family man, blissfully living with girlfriend Vanessa Paradis and children Lily-Rose, 8 and Jack, 5.
Also, as a feature in The Sunday Times lists, he's settling into homelier creature comforts as well. While he used to pride himself on his 1960's 650cc Triumph Bonneville (middle) and his purring Porsche 911 Carrera (top), Depp today has moved on -- to a simple Mercedes A-class (bottom).
"We all go through the stage of wanting the fast cars and bikes," Depp tells the Times. "I was no different. Who wouldn't admire a Maserati? But I also wanted to ride in style, or with a bit of history. To get there -- and enjoy the journey."
"I've always liked speed, but now I like comfort," he says. Interesting words coming from the man who was once Hollywood's most defiant rebel.
Depp Photograph: Getty Images | Imaging: Uday Kuckian