| | |
| --- | --- |
| A still from Bombay To Bangkok | |
| | |
| | |
| | |
| | |
| | |
| | |
Advertisement
January 18, 2008 14:27 IST


For all its claims 'We are same same but different', Nagesh Kukunoor's new film suffers from a typical case of desi wine in a Thai bottle.

Given the filmmaker's penchant for sensible cinema even in a lighthearted genre (Hyderabad Blues), the far fetched and farcical Bombay To Bangkok comes as quite an unpleasant surprise.

The absurd nature of the story is evident from scene one. Tempted by the sight of big bucks, an underworld don -- Khan Seth's (Naseeruddin Shah [Images] in a 40 second, pointless special appearance) cook, Shankar (Shreyas Talpade) steals the booty and flees to Thailand. Meanwhile, the don orders his bling-happy, rapping son, JamK (Vijay Maurya) to hunt Shankar down.

The slapstick continues as the newly turned thief poses as a sexologist, handing out free samples of Viagra to every available victim, alongside a bunch of genuine doctors, holding a camp, outside Bangkok.

Shankar also finds himself hopelessly attracted to a pretty Thai woman, Jasmine (Lena Christensen), working as a medical camp volunteer during the day and sex worker at a massage parlor during the night. Her attempt to 'make happy' Shankar turns out to be a disaster. Still, she succeeds in getting him to taste a fried bug.

Speaking of food, Bombay to Bangkok is sinfully high on gluttony. The amount of screen shots dedicated to a richly spread out dinner table makes you want to quote Shankar's 'ulti aa rahi hai (I want to throw up)' at some point.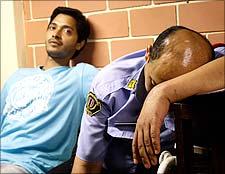 Culinary issues aside, the duo soon becomes a couple, smooching under the open sky, and mouthing Thai sweet nothings. Alas, the chemistry between the two is as potent as banana chips. To Shreyas' credit, he delivers an animated, earnest and fun performance, despite a poorly written part. His South-East Asian leading lady, however, fails to convey beyond her lovely albeit puzzled appearance.

Oddly enough, the screwball romance sub-track between a soft-hearted JamK and his hardheaded shrink, portrayed delightfully by theatre actor Maurya and Jeneva Talwar, merits more screen space then it eventually gets.

Another sore point of BTB are its shockingly unattractive visuals, low production values and bland soundtrack.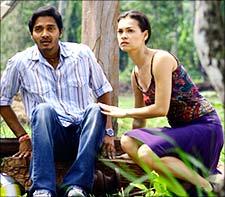 This is Thailand -- the country of aquamarine waters and pristine beaches, colours and flurry -- for crying out aloud. Instead what you get to see makes even Film City look swanky in comparison. The only culture Kukunoor depicts involves a group of traditional dancers, initiating into monkhood, insect food platter, bowls of Pad Thai noodles, Shah Rukh [Images] Khan-loving locals, amusing accents and massage parlour women looking to 'make happy'. That too through the medium of Sudeep Chaterjee's lacklustre camerawork and Kukunoor's feeble writing.

In this trite boy-meets-girl romance, the only points of distinction are the girl's nationality and the film's backdrop. That wouldn't be such a problem if Kukunoor's script had been blessed with wit, masala and chemistry. Alas, lack of key ingredients result in a boring recipe that's neither Indian nor Thai.

Rediff Rating: