Photo: Ash's Mona Lisa look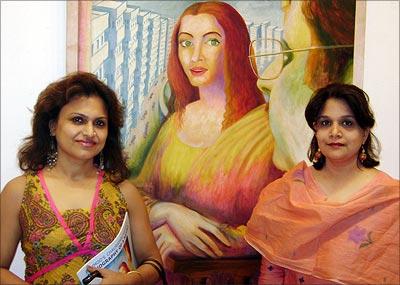 Mona Lisa's smile may still be a mystery but Bollywood, as usual, has managed to come around it.
Aishwarya Rai [Images] takes over from Leonardo da Vinci's masterpiece in artist Ratan Parimoo's latest work.
The 72-year-old exhibited his first paintings in Jehangir art gallery, South Mumbai, after a break of nine years.
He adapted Mona Lisa [Images] as the archetypal female and also compared her metaphorically with well known female characters from both European and Indian art history.
In the picture: Artists Ananya Banerji and Amisha Mehta pose in front of Ash as Mona Lisa.