Home > India > Movies > Bollywood News

Jodhaa Akbar could make even more money than OSO

Arthur J Pais in New York | February 19, 2008 12:23 IST



Getting a royal welcome on both sides of the Atlantic, Ashutosh Gowariker's Jodhaa Akbar, grabbed an estimated $1.3 million in North America and $750,000 in the United Kingdom over the weekend.

Factoring in the Gulf countries, the Caribbean and Australia, the three day haul could reach an awesome $3 million.

The film may not have crossover appeal to the mainstream audiences but anyone who reads the opening of The New York Times review may be tempted to see it. 'They may not make'em like they used to in Hollywood,' critic Rachel Saltz wrote, 'but sometimes in India they still do. Jodhaa Akbar... is filmmaking on the grand scale of Cecil B De Mille (The Ten Commandments), with romance, stirring battles, and enough elephants and gold to sink the Titanic [Images].'

The US box-office was especially impressive given the awful weather conditions in the Midwest.

"If the goodwill and enthusiasm for the film continues, and we at UTV feel it will, Jodhaa Akbar could make even more money than Om Shanti Om," said Lokesh Dhar for distributor UTV. "We are not looking at the success of this film in terms of another hit for UTV (which has distributed hits like Don). It could become the all-time highest grossing Bollywood film in North America."

Farah Khan's [Images] OSO starring Shah Rukh Khan [Images], who also produced it, grossed about $3.8 million in North America and holds the record.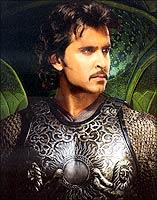 "Despite the fact that Jodhaa Akbar is three-and-a-half hours long," Dhar continued, "and theatres are having less number of shows, we are doing extraordinary business."
The film, which got decent reviews from many mainstream publications including The New York Times and a few pans like the one in the San Francisco Chronicle, had a record 135 prints released in North America. In the United Kingdom it has some 70 prints.
The full week's gross outside India could exceed $4.5 million. Even if the film's takings were to fall by 50 percent in subsequent weeks as it traditionally happens for Bollywood movies, it could still end up with some $8 million.
Unlike in India where the entertainment tax takes away nearly 50 percent of the box office collection, Bollywood producers get about 65 percent of the overseas take.
Bollywood insiders believe that even if Jodhaa Akbar does not do spectacular business in India, the overseas moolah will help it recuperate its reported $10 million budget.
Another reason why the film may not suffer a steep decline in the second week is that there are no big movies challenging Jodhaa Akbar for several weeks, till the action thriller Race, which is also distributed by UTV.
"We strongly feel that Jodhaa Akbar is not going to be a one week phenomenon," Dhar said. "Many people are telling us that they are seeing the film two or three times, taking friends and family members who may not usually see films in theatres. The word has gone out that this is one film you ought to see on the big screen first."
Indian Americans are also spreading the word that Jodhaa Akbar is not like the typical Bollywood production, and some of them are quoting reviews like the one in The New York Times.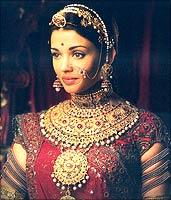 'These royals are played by Hrithik Roshan [Images] and Aishwarya Rai Bachchan,' Saltz continued, 'two rather astonishing specimens of human beauty. Neither is a great actor, but both know what's required of a star and seem to the palace born.'
She did not forget the music and Kiiran Deohans for his cinematography. 'The film bounces along to a memorable score by A R Rahman. (I am still humming the songs),' Saltz wrote.
Giving the film four stars out of five, the BBC's Tajpal Rathore wrote: 'One is perhaps starting to expect too much from director Ashutosh Gowarikar after such masterpieces like Lagaan [Images] and Swades [Images]. But he seems to raise the bar with his historic magnum opus, Jodhaa Akbar.'
'Extensive though it is, Jodhaa Akbar cannot be discussed using small talk,' Rathore wrote. 'Everything in the film is big and grand: the palaces, the armies and most importantly, the love story. It hits at the heartstrings and somehow has enough energy to sustain itself through the bloated script that perhaps should've been chopped. Ravishing Rai is convincing enough but it's Roshan's majestic performance as the love-struck warrior that packs the punch; it's his film from start to finish.'
Gowariker knows how to tell a story, declared Sandip Ray in the San Francisco Chronicle, referring specially to Lagaan. But in the new film, the review said, he seems overwhelmed by the sheer weight of history.
'The never-ending opening sequence, a CliffsNotes version of Indian history in superstar Amitabh Bachchan's [Images] sonorous baritone, doesn't help either,' Roy added.' Or perhaps the film just topples over under the sheer weight of all that gold jewelry.'
The problem with Jodha and Akbar is that they are both too noble, the reviewer continued.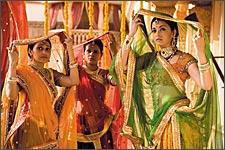 'Epic stories need epic tragedies or at least forbidden love,' he added.' In the 1960 classic Mughal-E-Azam, the rebellious prince (actually the son of Akbar) falls in love with the beautiful courtesan, and her defiant songs became the anthem of star-crossed lovers. (You still hear South Asians singing it at gay pride parades.)'
But there are moments when the film manages to break free of its limitations, the review said. 'Jodha and Akbar duel in an empty palace courtyard, their swordplay turning into foreplay,' it explained. 'A crowd of Sufis whirl, their white outfits glowing against the brick red earth, and the emperor leaves his seat to dance ecstatically with them. These are the real human moments in the film. One just wishes there were a few more.'
Many viewers in New York and New Jersey cinemas said they were not deterred by the film's length. "We have watched on DVD some films which are just about two hours long and we have found them boring," said a 50-year-old man who had driven 40 miles from Connecticut to see the film in a New York theatre with his wife and grown children "But if a film is well made, who worries about the time? And this kind of a film one must first see in a theatre, never mind what good home entertainment system we have at home."