| | |
| --- | --- |
| Kajol and Ajay Devgan in U Me Aur Hum | |
| | |
| | |
| | |
| | |
| | |
| | |
Advertisement
February 18, 2008 16:23 IST


On opening the package for the U Me Aur Hum audio CD, there is a dual panel spread with Kajol [Images] in bright yellow and Ajay Devgan [Images] in bright green, lounging sunglassedly on deckchairs with the sea behind them. It's a neat, uncluttered visual, not trying too hard but succeeding immensely -- and bodes well for Devgan's directorial debut. And it's soundtrack.

As first steps go, Devgan does brilliantly. The man gets Vishal Bhardwaj to score the film, a composer completely attuned to the need for mood. Bhardwaj is, as usual, in his element, and applause must also be given to Munna Dhiman for smart, evocative, everyday lyrics. Yup, this is a soundtrack that'll make ideal deckchair-listening, for sure.

Very few modern day Bollywood voices can capture longing as perfectly as Adnan Sami [Images], who bounces from high passion to desperate craving at the drop of a hat -- sometimes even juggling both simultaneously ji, wah wah. Opening track Jee Le starts with Spanish vocals, the lovely, warm language poured smoothly over strings clearly dying to burst into flamenco. Then Sami takes over, as do the track's deceptively simple-seeming lyrics.

It is a casual celebration of love, one that trusts both the moment and the emotion itself in its all-conquering potential. The charming words, written as if made up on the fly, give Sami room to play with little 'dhoond dhoond ke' and 'na na karo' bits. Shreya Ghoshal is a wee bit too high-pitched for her bits, but Sami and the words rock it. Oh, and the guitars fly very well after they take off. Toldja the track was a celebration.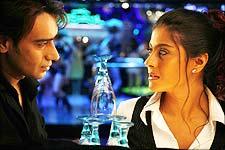 The second song, the title track Part 1, is crippled by the film's name. It has tremendous feel: you can picture a crooner with a plastic flower in her hair standing in front of one of those bands that over-relies on the synth-player, as people order margharitas and half-listen. It's a backgroundy-song, with irrelevant lyrics (the English bits, embarassingly Blaaze-like) and even though the words are evocative and Shreya almost whispers the words in her hunt for tenderness, you can see where things go wrong: where the tum, main, and hum meet but abruptly, almost rudely, turn into that annoying Hinglish attempt at being catchy. It's likely to make you flinch, that U Me Aur Hum, and the song's more than a tad too long.
Saiyaan, featuring the distinctive, ever-reliable vocals of Sunidhi Chauhan [Images], brings about a nice and complete change of mood. The lyrics are the star in this breezy track about a girl rejoicing in the uniqueness of her lover. And get this -- it's about how delightfully vague he is. The rhyme-scheme is refreshing (the penultimate words usually providing the bends) and it's a track that's fun to hear unwind, in its own unpredictably quirky way. It isn't a classic on first-listen, but that Kajol lady could change all that with considerable ease.
Adnan and Sunidhi join forces in the significantly spirited Phatte, the fun song of the album, a lover's repartee. It takes a while to get in the groove of the song, but Sami laces it with endearing whimsy and the percussion pretty much does the rest of the job. There's a random feel to the track, jumping with ad hoc abandon to random choruses and breaks in melody. Lyrically, it's all standard-issue he-said she-said -- 'har miyaan kanjoos hai, har biwi jasoos hai' -- but you do get the feeling you'll like this couple.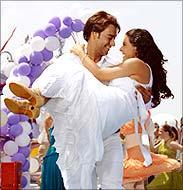 'Mujhko kachcha kha gayi,' Sami sings, audibly biting the words in Dil Dhakda Hai, a duet with Shreya. It's dialogue again, the man coming on strong in his urge to impress and the woman skeptically raising an eyebrow. 'Zulmi zulmi raatein hain, filmi filmi baatein hain,' boy and girl take line-by-line turns, 'taare todke laoonga, haan, saare yahi gaatein hai.' And yeah, it's Dhakda not Dhadka. Heh. The vibe is chilled and laidback, and both singers share great vocal chemistry, making this a hard track not to smile through.
Damn, Vishal saves the mellowest for last. Singer-composers often take the meatiest vocals for themselves -- we absolutely love AR Rahman for it -- but Bhardwaj here tackles a difficult one. It's the Part 2- Unplugged reprise of the title track, an unspectacular arrangement with words bordering on maudlin. Yet the maestro makes it soar, his voice making the 'mere rang mein ghul jaao' words positively molten. It's a tough ask, but even the 'U, Me Aur Hum' bits work, simply because there is an earnestness resonating from the man's voice. It's almost as if the lover is crooning the words simply because his wife wants him to, the banal line masking a hidden memory.
U, Me Aur Hum isn't an album with grandiose ambitions. It isn't epic or revolutionary or dramatic. It's innocent. It's romantic and real, moody and modest. And while each song might not seem a big deal, the collection is pretty darned eclectic. Oh, and it makes us root for Love -- and that's as big a deal as they come.
Rediff Rating: