| | |
| --- | --- |
| Karthi at the Berlin Film Festival. | |
| | |
| | |
| | |
| | |
| | |
| | |
Advertisement
February 18, 2008 13:00 IST


Tamil films are going places. After Vasantha Balan's Veyil was selected in the Tous les Cinemas du Monde section at the Cannes [Images] film festival last year, it is the turn of Paruthiveeran, one of the most realistic films made in 2007 to shine.

Paruthiveeran [Images], by Ameer Sulthan, was honoured with a "special mention" from the Network for the Promotion of Asian Cinema (NETPAC) at the 58th Berlin International film festival. The three-member NETPAC jury included Indian film critic Meenakshi Shedde.

 The main NETPAC prize went to "United Army" by Japanese director Wakamatsu Koji.

Both Paruthiveeran's director and the lead actor Karthi attended the film's international premiere at the Berlinale.  

This is not the first award for the film. It was adjudged the best film at the 9th OSIAN's-Cinefan film festival for Asia and the Arab world while the lead actress Priya Mani won the Best Actress award.

Awards are not new to director Ameer Sulthan, either. His earlier film Ram won two awards -- Best Film and Best Actor (Jeeva) at the Cyprus International film festival.

International awards to three of his lead performers -- Jeeva, Karthi and Priya Mani -- just shows how powerful the characters he creates.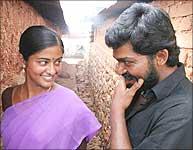 About performing for Paruthiveeran, Karthi told rediff.com last year, "I had faith in my director. He first told me to grow my hair and beard. I did that. He asked me to reduce my weight. Every week, I used to meet him and ask, are you happy with the progress I have made? He would then ask me to reduce again; and reduce my waist, increase my biceps, etc. Once the shooting started, it was Ameer who guided me. He can act very well, and he would act it out for me. But the toughest part was reproducing what he did."
It was the same with Priya Mani too. She admitted that she followed the director's instructions completely, as she was unaware of how a village girl from Madurai behaved and spoke. "If I have performed well, it's all due to Ameer, the director. He overlooked every minute aspect of the character, from the body language to the modulation of the dialogue, to what my expression should be when the male lead delivered his lines. So, all credit goes to him."
The film is a success because the film has a powerful story, excellent performances and a sincere director. No wonder Ameer Sulthan is reaping the harvest for all the hard work he had done.