| | |
| --- | --- |
| Aishwarya Rai and Hrithik Roshan in Jodhaa Akbar | |
| | |
| | |
| | |
| | |
| | |
| | |
Advertisement
February 14, 2008 18:59 IST


In Ashutosh Gowariker's Jodhaa Akbar, there is a particularly outstanding song sequence that must be praised. The titular couple's wedding banns have just taken place, and a group of singers sit cross-legged to offer the lord tribute. Each of them sounding suspiciously like AR Rahman, the minstrels break into the touching Khwaja Mere Khwaja and take the track to an almost trance-like happiness, the two backup singers even looking nearly identical.

 

Hrithik Roshan [Images], playing the Emperor of Hindustan, watches this with first bemusement and then, curiousity. Wordlessly, he leaves his throne and joins the dervishes as they whirl, gracefully entering into the trance with feckless fervour. It is a strong, well-performed scene, telling a tale and insightfully revealing a character by a mere gesture, a showing of mood.

 

If only... if only the entire film was made with such restraint.

 

Don't get me wrong, Jodhaa Akbar is not a bad film at all. It's just not great and -- despite the daunting three and a half hour length -- it could well have been. Heck, Spartacus was longer and Mughal-E-Azam only a trifle shorter, and both 1960 releases hit immortality. Historicals, it can almost be said, deserve an extra hour of running time.

 

That doesn't mean, however, that we thus go overboard the tragic way Ashutosh does. He is a fine director, no question, and while there is no scene in this film that makes you cringe, there is much waste. This film works when treated as a simple, compelling romance between an unlikely wedded couple, but outside of it, Gowariker falls prey to all the big-budget trappings.

 

'These are my sets, see how they glisten,' the director seems to croon as he shows off big rooms and elaborate costumes. Again, there is no fundamental problem with this, provided the action within has some substance, or at least style. But the royal intrigue is predictable, the characters obvious and underwritten.

 

In contrast to the well-handled moments between Jodhaa and Akbar, the rest of the film seems contrived and weighed down -- both by a pressing need to live up to scale as well as the director's undeniable soap-opera sensibilities. (The latter is exhibited best in the close-ups and the abruptly cacophonic background score.) Hence the romance works, but the history, well, seems to be getting laboriously in the way.

 

I'm not even going to touch on fact and fiction. The best historicals have little to do with the truth, and let's just give a filmmaker benefit of doubt and the license to have his own interpretation of a period with varied chronicles. But palace intrigue and dramatic conspiracy can be cinematic and entertaining without having to be simplistic and even banal. There is no air of urgency, and no surprise as the antagonists -- from rivals to elephants -- obediently fall over, on cue.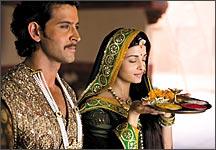 And the falling is, unfortunately, sloppy. The director can handle romance and emotional conversations well, as we are well aware, and war is just not his forte. Soldiers charge at each other visibly trying to hold back, and while I'm sure hundreds or thousands of extras are impossible to control, the battle sequences are amateurish to an embarrassing extreme. They might have worked if shown in fits and spurts, swords thrust strongly in rapidly edited montages set to a peaking score, but here we are shown long and tiresome battle sequences -- scenes where we see extras twirling weapons and jabbing the air pointlessly. Tsk.
Still, the romance. The film has a good and solid heart, and the story, of a conquering, defiant young king -- this one really was meant to be princeling for a while longer -- taking a bride for strategic reasons and then falling helplessly in love with her unbridled spirit, is a winner. The movie is a treat in the inventive scenes where Jodhaa (Aishwarya Rai [Images] Bachchan) stands up to Akbar, the Rajput princess in no way ready to yield without a fight. Literally.
Their chemistry is palpable, and the two undoubtedly pretty protagonists do well to keep the heat alive through their every on-screen interaction. Jodhaa makes Akbar wait an exasperatingly long time, and Gowariker makes this gradual evolution of their relationship work, their love building only alongside their increasing respect for one another.
Roshan proves to be a very good Akbar. There are times when his inflection seems too modern, but the actor gives the performance his all, slipping into the skin of the character and staying there. He has the right air of cocksure arrogance and bearing, also managing to convey the Emperor's sharpness. Gowariker tosses him a topless sword-practice scene graphic enough to be labeled gratuitous, and not just does the actor take it in his stride impressively well, but even makes it charming in the way he smirks for his queen. Hrithik is an increasingly remarkable blend of tremendous screen presence and acting conviction, and seems to be getting better with each film.
Aishwarya, pretty as ever, is not given much dialogue, a directing masterstroke. The actress looks stunning -- and is photographed very well indeed -- and while her sentimental scenes and tear-filled speeches are often flinch-worthy (inspiring sympathy for the Emperor persistently trying to woo her), she does rather well when she's feisty and combative. Her parries, accompanied by near Seles-ic grunts, are practiced hard and look more real than the king's, as if she'd gleefully cut through chainmail vests if she could. Her eyes are a mega asset here, and the director uses them perfectly, taking them from subdued pain to injured pride, all the way to roaring warrior-girl killer eyes, flashing in glorious isolation while the rest of her startling face is covered.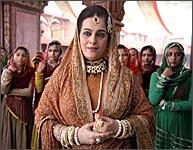 To nobody's surprise, Gowariker populates his film with a great supporting cast. Nikitin Dheer, Pramod Moutho and Visshwa Badola deserve to be singled out, as does the one and only Raza Murad -- if only for that magnificent voice. Sonu Sood, as the queen's brother, is given a powerful role, but he plays it with such old-school grandeur that it almost seems spoofy. Punam Sinha and Manava Naik do very strongly, while Ila Arun hams it up bigtime.
All in all, it's an okay film. There is a very nice love story somewhere under all the blockbustery bluster, and its characters work brilliantly together. The rest of the film is naive and simplistic, but Gowariker's enough of a craftsman to get his detailing right, his performances restrained and make sure even the melodrama has panache. There is skill here, but it is killed by a devastating lack of economy.
To paraphrase screenwriting guru Syd Field, a scene should be entered as late as possible and exited as early. Gowariker does the complete opposite, lingering on inexplicably as he eavesdrops on his characters in attempts to brood to build mood.
While his intent is great, this movie -- coming after his last film, the well-intentioned but drastically overlong Swades [Images] -- shows that perhaps Gowariker -- a fine handler of actors and emotions -- isn't best suited toward cinema as an art form. A killer six or 12 episode big-budget television miniseries perhaps? Like a Tamas, maybe? I have a feeling he'd be super there.
Rediff Rating: