Home > India > Movies > Reviews

Superstar is an average film

Ameeta Gupta | February 08, 2008 20:08 IST


| | |
| --- | --- |
| Kunal Khemu | |
| | |
| | |
| | |
| | |
| | |
| | |
After Om Shanti Om and Khoya Khoya Chand, we have another film based on the Hindi film industry. But Superstar, starring Kunal Khemu [Images], has a double role element as well. It is directed by James director Rohit Jugraj.
Superstar starts with a middle-class boy (Kunal), who dreams of making it big in Bollywood. With his friends, including Mausam (Tulip Joshi [Images]), backing him, Kunal's character dares to fight for his dreams. Unfortunately, life plays a cruel prank on him.
Enter Karan, (Kunal's double role), a rich, playboy son of a leading film producer, Mr Saxena (Darshan Jariwala). He is bent on making his son the next superstar. But Karan is not interested in the movies. He would rather spend his time partying or chasing actress Barkha (Aushima Sawhney). Fearing that his son's antics might jeopardise the film, Mr Saxena brings in Kunal as his body double. Now Kunal's dream of becoming a superstar is just a moment away, but at the cost of losing his identity.
Jugraj's direction has improved since James; he has extracted great performances from the actors.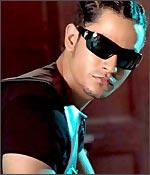 There are great comedic moments in the film, most times poking fun at Bollywood stars and scandals. Even Sanjay Dutt [Images], who has a guest appearance, comes up some cheeky one-liners.
But the script has some loopholes, the most prominent one being the investigating journalist (Zafar Karachiwala), who is only interested in getting the next scoop. But when he finally gets it, he suddenly turns into a softy and backs off. Karan's death scene is treated very poorly.
The film moves at a very slow pace, and should have been better edited. Music is quite drab too, except for the songs, Do I Love You and Ajnabi.
What holds the film together is Kunal Khemu's performance. He's endearing as Karan the casanova and as Kunal, the struggling actor. He definitely deserves better roles in bigger films.
Darshan Jariwala, as the money-hungry producer, is awesome. Sharat Saxena does brilliantly in the scene when Kunal visits his parents.
Tulip Joshi has lesser screen time than Aushima, but both do well.
Superstar is an average film. Watch it only if you have nothing else to do.
Rediff Rating:

Want to see this movie? Check out Rediff Movie Tickets!