Home > India > Movies > Reviews

Rama Rama is one lousy film

Ruchi Naresh | February 01, 2008 18:13 IST


| | |
| --- | --- |
| Amrita Arora and Aashish Chaudhary in Rama Rama Kya Hai Drama. | |
| | |
| | |
| | |
| | |
| | |
| | |
This Friday's supposedly funny film, Rama Rama Kya Hai Drama, gives us a shameful version of marital dilemmas with zilch support from the story department. All we get is some bad marital advice from Rajpal Yadav.
Bank cashier Santosh (Yadav) is an unhappy newlywed, who thinks that his wife Shanti (Neha Dhupia [Images]) isn't the woman he hoped to marry. The bickering starts very soon. At work, his boss (Aashish Chaudhary [Images]) sails in the same boat, with his overbearing and possessive wife (Amrita Arora [Images]).
After this is estalished, the film takes a long time to move ahead. The story is caught in a loop between Yadav's ranting on the streets and imagining Shanti in every other woman.
The film tries to capture unrealistic expectations and a lack of maturity between young couples. But it is far, far away from being even remotely funny. Yadav tries very hard to be the frustrated guy, and overdoes it.
The film, in fact, has nothing to offer. It just seems to be waiting for another song or another one of Yadav's crazy outbursts until the couples predictably patch up.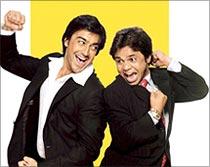 Director Chandrakant Singh's trump card seems to be Rajpal Yadav, and his comedy. But we'd much rather prefer the actor in his sidekick roles.

The film is so bad, you almost feel sorry for Neha Dhupia being trapped in this corny effort.

Aashish Choudhary and Amrita Arora give mediocre performances.

Anupam Kher [Images] deserves a special mention. He has been hand-picking bad roles, washing away his memorable portfolio of such greats like Saraansh and Lamhe. He does a goofy slapstick nice-guy routine but it's really not amusing anymore.

Rama Rama Kya Hai Drama is one bad marriage you can happily avoid.

Rediff Rating:

Want to see this movie? Check out Rediff Movie Tickets!