| | |
| --- | --- |
| Nicole Kidman and Hugh Jackman in Australia | |
| | |
| | |
| | |
| | |
| | |
| | |
December 31, 2008 16:45 IST


Let's get this straight -- Baz Luhrmann's Australia [Images] is not a movie about foul-mouthed cricketers or overly tanned blondes who surf (the ocean, not the internet) a lot and go around slinging G'Day Mates at anyone they see.

It is a period drama, not unlike the ones attempted by James Cameron with Titanic [Images] (to great success and acclaim) or Michael Bay with Pearl Harbor (much less of both success and acclaim) where the struggles of a small group of individuals is set against the broader canvas of a large global event.

On its surface, the film is about an Englishwoman Lady Sarah Ashley (Nicole Kidman [Images]) who arrives in Australia, in pursuit of her husband whom she suspects of having an affair. This is the reason she attributes to why he spends large amounts of time far away from the Queen's country.

Upon her arrival at Faraway Downs, the property owned by her husband, she encounters two people who affect the course of her life greatly -- one is the hardy Drover (Hugh Jackman [Images]), a cattle herder who was hired by her husband to deliver 1,500 head of cattle to the port of Darwin on his behalf; and the other is a young, half-Aborigine, half-Caucasian boy named Nullah (Brandon Walters) who plays a pivotal role in the tale and also serves as the narrator of this story.

Through his young eyes, and in his pidgin English, we see and hear the story of Lady Ashley's struggle to cope with the shocking knowledge of her husband's untimely death and the fact that she has to figure out a way to deliver the cattle across harsh terrain or risk losing her property and everything her husband worked and risked his life for, to a scheming station manager Neil Fletcher (David Wenham).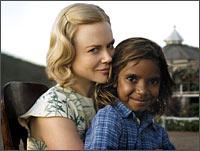 What follows is an action adventure across desert, rivers, dusty plains and through the highs and lows suffered by their small group as they go up against the might of the business rival and the ways of the world in late 1930s, early 1940s Australian society.
The director's visual acumen was already clearly on display in his previous film, Moulin Rouge. It appears that he set out to broaden his canvas and populate it with all the colours of his native land this time around. In its wide vistas and lush shades of earth, flora and fauna the movie is vibrant and almost a living thing.
While it is tempting, in the face of descriptions using words like 'epic' and 'grand' for potential audiences to fear that they will be put to sleep by the pace of the cinematic undertaking, that is definitely not the case with this movie. The story moves along nicely and the performances by the three main characters are engaging enough that one doesn't focus on the fact that the leading lady has to struggle against science to bring any definable expressions to her face.
As the rowdy but capable Drover, Jackman turns in another performance that accentuates his charms, obvious and otherwise, and gives him an opportunity to play a man's man without having to resort to extensible claws to get his way.
The little boy who debuts in this movie in the character of Nullah does a fine job of imbuing his character with shades ranging from mischief to gravitas without ever appearing to be an old soul in a juvenile body.
The tale is fairly conventional so some of its uniqueness has to come from the way it is presented. The editing team has played nicely with the narrative in some stretches to design an engaging show-and-tell of available information.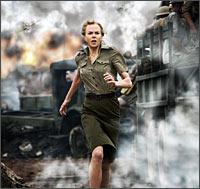 All things considered though, it took the director's facility with the material and the lead performances to lift a slight story and give it heft and some semblance of resonance. While there are a couple of sequences that truly deserve to be watched on the big screen and several frames that almost look painterly in their composition, this is somehow a lesser work than Moulin Rouge.
For a film of such grand scope, the trials and tribulations faced by the characters are not that fulfilling, from an audience's viewpoint.
As has been the case in cinema of late, we don't ever get the sense that these beautiful people are ever in any real peril. It is also unclear whether the cattle baron or the station manager is the true villain of the piece until fairly late into the movie. When the revelation comes it still sets the bad guy up to be playing for stakes that don't really appear important enough or earth-shattering enough to justify all the goings-on that result from his machinations.
Australia is still a movie that deserves to be watched once on the big screen. Unfortunately, it doesn't go on to demand that repeated viewing that drove Titanic to become the biggest movie in the history of recorded box office collections.
So while Luhrmann's Moulin Rouge imbued the spirit of the legendary club with such mystique and joie the vivre that the actual establishment must have definitely benefited from increased tourist traffic in the years that followed, it remains to be seen if Australia will help drive increased tourist traffic down under.
Rediff Rating: