Home > India > Movies > Interviews


Discuss |
Email |
Print | Get latest news on your desktop

The Rediff Interview

Exclusive: Suriya on Aamir's Ghajini

December 29, 2008


| | |
| --- | --- |
| A scence from Suriya''s Ghajini | |
| | |
| | |
| | |
| | |
| | |
| | |
Aamir Khan's Ghajini [Images] released to packed audiences last week, and got everybody talking about it. We spoke to the film's original hero -- Tamil actor Suriya -- and got him to tell us how he liked Aamir's version. This is what he said:
Every remake -- or even a retake -- is tough. It will never be the same again if a remake is made. It also offers the chance to better the original. That is why I always believed Ghajini's Hindi adaptation would be better than the Tamil version.
My hindsight was proved right when I finally watched the Aamir Khan-starrer Ghajini in Chennai. Needless to say, it is much better than the Tamil version. Comparisons are inevitable, especially when it was remade by Murugadoss himself.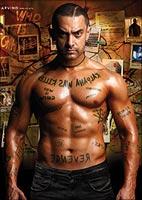 Talking about Murugadoss, it is a big break for him. It was a perfect platform for him to correct his mistakes he did in Tamil. He has not only corrected the flaws, but he has also bettered it. The climax scene was the perfect example. I loved the way he has built up the climax -- way different from Tamil. Some of the other changes he made have also made the film look better. The song sequence he introduced while Sanjay Ramaswamy -- sorry Sanjay Singhania -- was flying to London [Images], with wads of notes, was touching. It had a wonderful feel to it. Such moments add to the glow of the film.
Finally, about Aamir Khan [Images]. In a nutshell, I would say he did a fantastic job. Having said that, I don't even try a comparison with him. He is like a professor to me, and I am just a mere student. A student can never compare himself with his guru. The last two years or so has been a learning experience for me. When he said he never made a remake film in his career and he would do my role in Ghajini, I was humbled. As I said before on rediff.com, I am an Aamir Khan fan. I have been inspired by his Dil Chahta Hai [Images] and Rangeela [Images].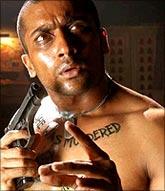 Over the two years, he kept discussing with me every minute detail. He always remained connected. Inspired by a wonderful script by Murugadoss, he worked so hard to build that body suited for the role. I would say the he worked hard more than me. I know how difficult it could be to have -- and maintain -- such a bod at his age.
I heard him saying that in fact I was the one who pushed him to do the role. That comment makes me even more humbled.
Talking about the character, the energy level -- especially in the climax scenes -- that he brought into the character was incredible. Definitely, the changed sequences have added to the intense characterisation. In Tamil, I had to keep the intensity throughout the film -- right from the beginning. There was no particular build-up, the intensity was needed in every scene -- even when I was fighting with the goondas. That was the way Murugadoss wanted.
But in Hindi, the build-up to the climax was taken differently. That was innovation at its best, and it worked fabulously. That is why you see Aamir Khan explodes in the climax scenes. The animal instincts of the character really peaked in those climax scenes. It was fantastic acting that left me completely amazed.
Many people have come up with their comparative analysis. On the whole, the Hindi version is better. Hats off to Murugadoss and the complete team. I repeat and stress that I would never compare myself with Aamir Sir. In fact, this is not even an attempt to compare the two roles. It is just my reflections on the Hindi adaptation. More than anything else, Aamir Khan is a better human being. To me, that was the most important lesson that a guru can impart to his disciple.
As told to Rajaneesh Vilakudy
Email |
Print | Get latest news on your desktop