| | |
| --- | --- |
| A scene from Slumdog Millionaire | |
| | |
| | |
| | |
| | |
| | |
| | |
December 17, 2008 13:19 IST


It's a bit of a disservice to try and rank a musical score as one would a normal soundtrack, since so much of its desired effect is achieved through using it in bits and pieces, in background and in snatches... as opposed to full-scale gaanas like we usually see in our movies.

Yet AR Rahman is up for a Golden Globe for his work on Danny Boyle's phenomenally well-reviewed Slumdog Millionaire, and before we watch the movie, here's a peek at the 13 tracks on the disc.

O Saya:
By the way, it's 'Say-aah,' like a particularly tuneful dentist would sing it, not 'Saaya' as in shadow. Rahman's the man ostensibly asking you to open wide, and he sounds uncharacteristically mellow with his exhortations before breaking into some Cheb Mami style freestyle vocal wildness. Ha. M.I.A sounds just about okay, but breaks the rhythm of the song effectively enough. It's the kind of song that'll grow on you.

Riots:
There's a discordant moaning accompanying the thudding rhythm of this track, suggesting it's about a city -- and its very bowels -- in deep agony. Something is clearly wrong, and the track lets you know it. Very unsettling.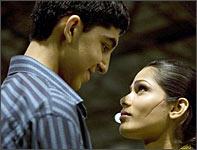 Mausam And Escape:
The composer decides to leave the electronica for later, and just concentrate on a beautiful soundscape. This is where the classical showoffing is done, and Rahman masterfully builds on layer over layer as the track rises to an overwhelming crescendo. The mood shifts right through the middle of the song, and this is Rahman in look-at-me mode. It's a startling track, its frenetic high ebbing gradually, beautifully into silence. Wow.
Paper Planes:
M.I.A soars with this ridiculously catchy track. The words -- 'I fly like paper, get high like planes; If you catch me at the border I got visas in my name' -- are very fun, but not as much as the sound effects: 'All I wanna do is,' M.I.A sings, before the track shudders with gunfire, bang-bang-ing away to glory. Good fun.
Paper Planes (DFA Remix):
ARR clearly listens to more American music than we expect him to. Suddenly the M.I.A track comes with a significantly moody intro, and by the time the girl's vocals kick in, the song already sounds very different from the one we just heard. The real fun bit? Rahman kills the guns, making it impossible to tell what M.I.A wants to do anymore.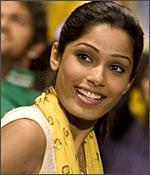 Ringa Ringa:
This is Choli Ke Peechhe, not that they ever sing that line. The essence of Laxmikant-Pyarelal runs deep through this song. Ila Arun sings Ringa-Ringa with such unforgiving intensity you almost wish she'd say 'roses' and break the spell, while Alka Yagnik [Images] sounds better than she's done in quite a while. The melody is obviously haunted by the ghost of a provocative Madhuri Dixit [Images], but Rahman soaks the track in nineties-ism with such joy. The once merely sexy song here becomes a saga of betrayal and helplessness, and the effect is mesmeric.
Liquid Dance:
A hyperactive tabla bol crossfades frantically from centre to left to right and back again even before the actual beat kicks in. There is much electronica, and a theme -- reminiscent of Rahman's lovely Bombay signature theme, definitely intentionally -- takes over, and by now you're hooked. The composer weaves in several disparate layers, and each rolls back to give the dhu-na-ki-tak-dhini bol pride of place. Very cool, very trippy, and one can only imagine the mad visuals this track will accompany and, doubtlessly, elevate.
Latika's Theme:
There is much wistfulness on hand as Suzanne D'Mello melodically hums her way through this simple, pretty piece of music. Somewhere in the middle it seems to dip into a poignant melancholy, but we're probably just second-guessing the film here. A fine, intentionally unspectacular theme.
Aaj Ki Raat:
Yeah, it's Shankar-Ehsaan-Loy's track from the new Don. There is some slight remastering, but the song remains the same. I'm betting there'll be a small portion, or snatches, of the song played somewhere in the background.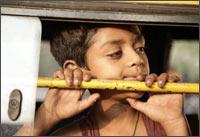 Millionaire:
The first thing you notice about this track is its urgency, about how the heavily syncopated music tries to be racing ahead of itself. It might sound like generic electronica at first go, but there is a grim undertone to this song, clearly the kind of thing that could accompany a great chase visual. Or a montage.
Gangsta Blues:
Incoherent whispers lead us into this gangster-by-numbers track. Rahman's frequently used rapper Blaaze sounds less objectionable than he ever has, but this remains a very standard-issue 'bad guy' track, right down to the oh-oh-oh-oh Aguilera-esque chorus by Tanvi Shah, though the way she does the final 'oh' every time deserves, um, commendation.
Dreams On Fire:
The melody is innocuous, but D'Mello sounds a bit like she's trying too hard. The words are maudlin, and don't ever quite soar out of the Hallmark range. Nothing special, though Boyle could change that visually.
Jai Ho:
Aha, this one's a keeper. Rahman always uses Sukhwinder Singh to the optimum, and as soon as he sings out the first two lines -- lovely, evocative lines about the sky stretching out like a sparkling blue shamiana -- you know you'll love this song. Tanvi Shah and Mahalakshmi Iyer are used with whimsy, and the words are those of a dreamer. I dare you to not love this song.
What a way to end the album. So yes, there are a few stellar tracks -- Liquid Dreams, Jai Ho, Mausam And Escape and Ringa Ringa are absolutely incredible -- and it's a safe bet the rest will either grow on you or impress you once Mr Boyle's had his way with the music.
All I can promise is that listening to this music makes you want to watch the film real bad.
Rediff Rating: