| | |
| --- | --- |
| A scene from Bommalattam | |
| | |
| | |
| | |
| | |
| | |
| | |
December 15, 2008 14:12 IST


One of Bharathiraja's passions has been to make slick urban thrillers with snazzy characters, infused with his own unique narrative style. Quite a few movies have resulted from this hankering, Kangalal Kaithu Sei was the last. Now, Tamil film Bommalattam (Puppet Show) -- produced by Therkathi Kalai Koodam -- is the latest in his brand of urban whodunits but you are left wondering if the revered director hasn't fallen prey to the bane of his ouvre - over-emphasis.

The movie kicks off with a bang. Director Rana (Nana Patekar [Images], in Tamil for the first time) is busy wrapping up his magnum opus, Cinema, starring new actress Thrishna (Rukmini). But the press meet introducing the film and actress is jinxed. Even as eager presspersons await the director, they see his car burning up in a ravine, the heroine dead, and the director unconscious.

Thus begins a cat-and-mouse game, as crime officer Vivek Varma (Arjun) conducts forensic research, zeroes in on Rana and his unhappy wife (Ranjitha), and begins his interrogation. In the process, leaves of the director's past flip back, revealing shades of Rana's unique character -- and the two murders that preceded Thrishna's death.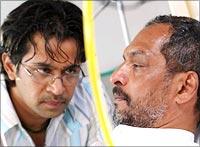 Bommalattam revolves heavily around the Tamil film industry -- there are extensive location searches, shoots and make-up sessions, with Rana's pre-occupation with his movie, his irritation at the people who cross his path, his eccentricities -- and yet, his overwhelming fondness, often viewed as lust by outsiders, towards his heroine.
In the end, this is what narrows down suspicion towards him regarding her death. As the investigation proceeds, you're introduced to other minor characters; the Panchayat bigwig (Manivannan) who eyes Thrishna lustfully, the producer's son Nitish who makes her life difficult in Malaysia -- and Rana's growing protectiveness of her.
B Kannan's camera's focus is almost entirely and lovingly on Nana Patekar. Every single expression is minutely recorded in an almost yawn-inducing fashion at times. Nana Patekar's Rana, you guess, has been chiefly inspired by Bharathiraja himself -- and a seasoned actor like Nana has no doubt imbibed as much of the director as possible.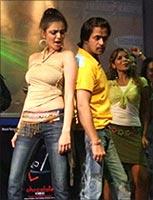 The body language is so similar at times that you're fooled into thinking that it's Bharathiraja himself onscreen and the illusion is added to by Nizhalgal Ravi's voice. There's a combination of smugness and sensitivity to the character which produces sympathy and irritation at the same time. It's to Nana's credit that he can shrewdly pull off something like this.
Arjun, appearing briefly, fulfills the role of a suave, intelligent officer perfectly. His girlfriend Kajal Agarwal seems to have no role except to confuse viewers with her flirty behavior towards Nana. Rukmini is definitely a surprise package. Vivek, in the brief time he appears, manages to produce some laughs.
For a murder thriller, however, Bharathiraja's screenplay lacks punch. He seems to have been confused about whether to give importance to the characters themselves, or the thriller portion. You end up getting only bits and pieces of both, which makes for a rather unfulfilling meal.
Himesh Reshammiya [Images] is the music director. Monty's background score is too loud, at times.
With its painstaking characterisation, Bommalattam is inspiring but only in parts.
Rediff Rating: