| | |
| --- | --- |
| Freida Pinto from Slumdog Millionaire | |
| | |
| | |
| | |
| | |
| | |
| | |
December 12, 2008 14:01 IST


Slumdog Millionaire consolidated its Oscar nomination chances last week winning a slew of key awards and by being nominated in four Golden Globes categories including best film, best director (Danny Boyle), best adapted screenplay (Simon Beaufoy) and best original score (A R Rahman). Widely televised worldwide, the Globes are given by Hollywood Foreign Press Association.

Last week, the $15 million movie which has grossed nearly $6 million in North America in limited release in four weeks, was honoured with two awards from the Los Angeles Film Critics Association including best direction and music, one from the New York Film Critics' Circle, as well as six nominations for the Critics Choice Awards including best picture. It has been declared the year's best by the National Board of Review.

In London [Images], where Slumdog also won best film at the British Independent Film Awards, also became a sentimental winner. 'We are thrilled that we can hopefully bring some positive light to what has happened over there (the terrorist attacks in Mumbai) by honouring this film,' board President Annie Schulhof said at the awards.

Boyle and his film's lead players Dev Patel and Freida Pinto were on NBC soon after the Golden Globe nominations came.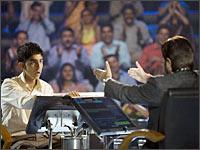 "I've got a lot of messages from Mumbai today," Boyle told The Hollywood Reporter. "They've been through a tough time but they are so exhilarated. Bollywood is an extraordinary industry in its own right, but they also watch Hollywood and it's very exciting to get this kind of honour out of Hollywood."
Following the folding of its subsidiary, Warner Bros offered to distribute the film in 2009 but when Boyle insisted it should be released this year, Fox Searchlight -- which has successfully distributed Water, The Namesake [Images] and The Darjeeling Limited -- picked up the gritty yet romantic, feel-good film. The nominations and win so far boosts hopes for Slumdog, which is viewed as the independent film most likely to follow Juno and Little Miss Sunshine in Oscar contention. Fox Searchlight also distributed Juno and Little Miss Sunshine, small budget films, which became international hits.
"I had no idea that this film would trigger such a favourable reaction across America and Canada [Images]," the British director Boyle said. "I thought the natural market for the film was in the United Kingdom. The British understand more of India than other people."
The film chronicles the adventures of three slum kids following them into adulthood. It opens with one of them (Dev Patel), a teenager, coming close to winning the Indian version of Who Wants to be a Millionaire contest. Anil Kapoor [Images] plays the host of the show. Freida Pinto plays Dev's long lost girlfriend.
Boyle said the reception the film received at the Toronto International Film Festival, where it received the People's Award, "defined its appeal." It also received a similar award at the Chicago International Film Festival later.
"This was an once-in-a-life time opportunity for me," Anil Kapoor said, recalling the SMS he got from Boyle's office two years ago. He was inclined to ignore it then. "But my son Harshvardhan, who was very well aware of Boyle's work (Trainspotting) insisted I read the script and get in touch with Boyle. My son said, 'Dad, you have done enough of singing and dancing. Now do something real, or else I will leave the house.'"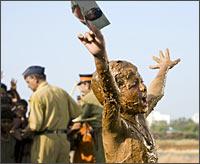 "When your son threatens to leave the home, you better do something about it," said Kapoor. He adds that his son, who is studying film direction in Los Angeles, may direct him Anil Kapoor in the near future.
Slumdog, which has received some of the best reviews of the year from major publications like Time magazine, The New Yorker to Chicago Sun-Times and The Washington Post, was first released in half dozen theatres. It was playing in 165 theatres in over 50 cities including Toronto, Kansas City, Ann Arbor, Charlotte, New Orleans and Honolulu. The film will release in India and United Kingdom next month.
"The film is set in Mumbai but it has universal appeal," said Boyle. "People everywhere can react to the heartbeat of these young people. Americans are also getting the film in a big way. It is like I am telling the Indian version of Rocky."