| | |
| --- | --- |
| Anushka Sharma and Shah Rukh Khan | |
| | |
| | |
| | |
| | |
| | |
| | |
December 12, 2008 17:54 IST


The constantly stressed romantic ideal in Aditya Chopra's [Images] Rab Ne Bana Di Jodi is that you know love is for real when you see the lord (Rab himself) in another human being. Rab is also accused of being the one responsible for scripting this love story, and it is His will -- says the supplicant leading man -- as to when it starts and how it finishes.

If this indeed be the case (though it seems far likelier that Adi's palming off screenwriting blame to a higher authority), then the Almighty needs a severe lesson in economy, in being able to end a film when it should instead of far past the rightful finish line. It wouldn't be remiss either for Him to pick up a few books on plot, and realise the fact that audiences get annoyed when you pretend there's a story instead of there actually being one.

During the opening shots, the camera stutters as it pulls out of an Amritsar [Images] gurudwara, the kind of little jerk that pops regularly up in low-budget television documentaries. Considering that you're watching a massively hyped megabudget film from the most plasticky banner of all instead of a Doordarshan documentary, this is a stutter of hope. You see the camera moving from portly men on cycles to banal storefronts and you wonder: are they really going to make something earthy, something realistic, something unlike the usual gimmickry?

Three very long hours later you realise that the stutter was the movie's most honest moment.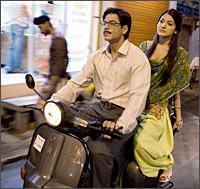 Because honestly -- and I say this as somebody who thinks Dilwale Dulhaniya Le Jaayenge is the quintessential Bollywood masterwork of the 1990s -- we really can't take one more film with a heroine begging her Raj to take her away.
Yash Raj Films has always indulged in much self-referencing, but now the oh-look-how-we-used-to-make-hits giggle has turned into a smug gloat, and it's become sickening. People get onto bikes and the Dhoom song plays, Shah Rukh Khan [Images] christens himself Raj and uses his Dil Toh Pagal Hai intro as an opener, and while there's nothing wrong with the technique per se, Adi and his directors have flogged it to death. It's as if every young director is told to look back into the YRF catalog and pick up a hit or three, and 'borrow' song or scene or dialogue or, well, plot.
And the young Mr Chopra seems trapped in the past, in the flutter of yellow dupattas and Punjabi fields. And even the Punjabiana is so darned forced. Just last week we were raving about an excellent depiction of the Punjabi milieu, but naturalism now seems alien to Aditya. Shah Rukh and buddy Vinay Pathak may have been able to act well, but are made to say 'yaara' in the middle of every blasted sentence to each other. The 'hi-ji,' 'hello-ji' sounds all right, but if everyone lays it on this thick... Well, let's just say too many kukkads spoil the broth.
Still, we go in expecting an entertainer, and the film starts off poised to deliver. Youngling Anushka Sharma [Images] looks earnest enough, an excited bride hurriedly dispensing with SRK [Images], fobbing him off with polite greetings as she runs up to inspect her trousseau. Khan, a wedding guest, fumbles nervously with a straw in his bottle of cola, as things go horribly wrong -- something foreshadowed in a very badly recorded voice-over that opens the film and never really comes back. Alas, the baraat bus has crashed, and the wedding isn't to be. This all happens in the first few frames of the movie, so one was prepared to appreciate Chopra for breezing through a section that would have formed an entire film plot for, say, Sooraj Barjatya.
Yet how little we are prepared for. Chopra's economy soon takes us into an inexplicable plot, one where... Okay, let's try and be chronological. Shah Rukh the Square marries young Taani. It is the honourable thing to do, he feels as he bumbles around and takes his personals up into the attic, leaving her on a four poster bed with one pillow and all the privacy she can ask for. Yet she doesn't love him and -- without going into details, really -- this apparently necessitates a makeover for SRK.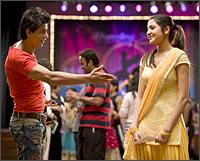 Khan himself doesn't do too badly. Granted, the first few minutes of him trying to be all geeky come across as Irrfan Khan [Images] doing a bad Amol Palekar impression, but he improves drastically and manages to bestow the character with -- if not heart -- at least a general likeability. This is no small ask when this introverted clerk turns kewl at the drop of a hat, and suddenly becomes the filmiest stud in the world.
There is no progression to his metamorphosis, not even an awkward fumbling. No, to be fair, there is actually a great moment when SRK post-makeover stands and fidgets nervously, grapples with his jeans and wonders how to walk the cool walk -- but it's a scene that dissolves into nothingness as he reminds himself that he's now cool, and cool he becomes. Snap those fingers, baby.
Still, it is a fun performance, albeit in fits and starts, and those moments we spoke of are clearly all conjured up by him.
There are several such moments -- including a neat scene with SRK talking to a mannequin wearing his clothes -- but each of them overstays its welcome, turning into a longdrawn and obvious explanation of the characters and their motivation. Heck, this'd be a much improved film if every single one of the characters didn't talk to themselves. And lets not even mention the background score or the way the characters are reflected in a painting, painfully Mohabbatein -- except its Guru Nanak in the frame this time.
Anushka does well, but this is an out-and-out SRK film, which negates her role significantly. She has a nice smile and clearly looks Punjabi enough, and is adequate in a wholesome, television-actress sort of way. Her character gets to be equal parts plucky and melancholy, but the writing is so obvious that this isn't the kind of role that could challenge the debutante.
The first half of the film seems somewhat alright, though I'd love an explanation on how a woman besotted with a certain man not just imagines him on screen in a romantic medley, but sees him dance with a string of Bollywood heroines instead of herself. The second half of the film sees a lot of the aforementioned Rab-invoking, with much talk of divinity and love. And as you yawn through the last half hour -- wherein lies the Rab -- you realise that the entire makeover device, which masquerades as the plot of the film, was completely unnecessary, and all the hero needed to do was take her to the temple a few more times. And a redundant plot is as unforgivable as it gets.
Mr Chopra, you make a lot more money than I ever will, but I'll still take this opportunity to throw up some basic, unsolicited suggestions: ask Farah Khan [Images] how to deal with movies-within-movies and have fun; ask Dibakar Banerjee for some help with realistic-sounding accents and dialects; ask Shirish Kunder or Farhan Akhtar [Images] for advice on creating geeky, square guys who stay in character instead of breaking it as soon as a song starts.
Just make a film that doesn't feel over a decade old.
And hey, please get over DDLJ. Before you get us to start disliking that fantastic film.
Rediff Rating: