| | |
| --- | --- |
| Anushka Sharma and Shah Rukh Khan | |
| | |
| | |
| | |
| | |
| | |
| | |
December 12, 2008 17:25 IST


Aditya Chopra made Dilwale Dulhaniya Le Jayenge where he reinvented the love story formula with a freshness that has since been copied so often, it has now become a cliche. It is still running at Mumbai's Maratha Mandir, 13 years after its release. I have seen it 27 times.

 

How do you follow up something that has become a part of our popular culture?

 

With such gigantic expectations, directors sometimes don't make a film for years -- like James Cameron whose

Avatar

will release almost a decade after

Titanic [Images]

.

Adtiya made

Mohabbatein

next

,

which was judged against

DDLJ

. I saw it twice, the second time to hear Shah Rukh Khan's [

Images

] speech to Amitabh Bachchan [

Images

] in the film's climax once again. Those words were among the finest penned lines I have heard in our cinema.

 

Eight years later, Aditya is back with Rab Ne Bana Di Jodi.

 

It is an absolute triumph for him as the creator (writer and director) of the film. He takes the formula and turns it around on its head with a film that that is self parodying, self referential and absolutely refreshing.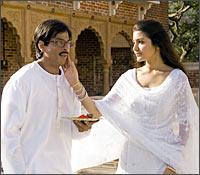 The film sees SRK [
Images
] playing Surinder Sahni (Suri) a regular office-going guy, who lives a quiet life and married a girl Taani (Anuksha Sharma proves to be a good find), who had just lost the guy she wanted to marry. Obviously, she doesn't love him. But he does, and decides to win her with an alter ego called Raj.
Yes, Raj is back!
But this Raj is totally unlike DDLJ's Raj, who would never run away with the girl. This Raj is all for running away. He is Taani's dance partner in a musical competition she participates in, by day and her husband Suri by night!
In
DDLJ, Pardes
and
Kuch Kuch Hota Hai [Images]
, SRK was stealing the other guy's girl. In this one, he is stealing her from himself!
The scene is set for an all-out entertainer, especially because Aditya and SRK have teamed up for this. They make a new age commonman hero in Suri, all the while poking fun at the flamboyant lovers SRK has played before. But these aren't insider jokes, they are steeped in popular culture that we have grown up on. For example, there is a hilarious take off on Hrithik Roshan's [
Images
] advertisement where he beats a bunch of baddies using a girl as a weapon. I won't spoil your fun about the other movies Suri and Taani watch in the film, but trust me, you have seen them all!
One of the funniest moments is when Taani nods off in a boring commercial and dreams up a song sequence where Raj announces that if you are bored of regular romances, he has learned from 'the baap' of romances and unleashes a song featuring SRK's favourite heroines.
RNBDJ ranks as one of SRK's best performances till date, his finest moment being in the interval when Raj talks to Suri and he talks back!
Technically, production designer Muneesh Sappel does a great job.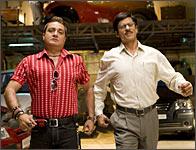 One of the things you may notice is that Aditya, along with cinematographer Ravi K Chandran, have designed the pace of the film with a lot of long and tough steady cam shots, held together by expert performances. I say tough because the camera is never static, yet it moves at exactly the emotional point you would require it to move in close to the character or pull back.
Salim-Suleman have a blast with the music of the film, which infuses the traditional Yash Raj music with a new age tempo.
One of the big surprises in the film is that despite the film being set in Amritsar [
Images
], it doesn't feature the assembly line family tree starting with Dara Singh playing the great grandfather and percolating down to every single niece-nephew, family dog and domestic help.
RNBDJ
has four leading players, SRK essaying two of them, Anushka [
Images
] and the brilliant Vinay Pathak as Bobby Khosla.
RNBDJ is an fun entertainer with some very wicked writing at work.
Okay, we can bring in the orchestra now.
PS: Do not miss the end credits!
Rediff Rating: 

Suparn Verma, a former rediff.com staffer, has directed Ek Khiladi Ek Haseena, and is currently directing Sanjay Gupta's Acid Factory.