| | |
| --- | --- |
| Deepika Padukone and Akshay Kumar from Chandni Chowk to China | |
| | |
| | |
| | |
| | |
| | |
| | |
December 10, 2008 12:41 IST


Clever alliterations and Akshay Kumar [Images] in a 'spoofy-autobiographical self merged with a Jackie Chan'esque [Images] avatar -- Chandni Chowk To China [Images] might just mark the beginning of a rocking January.

Add to it a delightful Ranvir Shorey, looking more authentic than the Indian version of Chow Mein in that get-up, along with Deepika Padukone [Images] in a cheongsam cocktail, what have you here?

Ever since the teasers came out, Nikhil Advani's [Images] action-packed comic caper, presented by Warner Bros and produced by the Sippys -- Ramesh and Rohan -- has aroused abundant ooh-aahs. And now with the launch of its music and a fast-nearing release date, the Hindi-Chini fever is on an all-time high.

So what's the soundtrack like, right? It's eclectic -- wild, flamboyant, electric, blustering and gentle too. The changing graph and flavour of its music, with not much melody, can be attributed to the presence of multiple composers at its helm.

For starters, there is Kailash Kher and Paresh-Naresh brothers doing their thing in the thoroughly enjoyable S.I.D.H.U. Besides rendering an elaborate introduction of its leading protagonist and his rise from sloth to skirmish, this qawaali-styled ditty is comically penned and mockingly told by the man wielding the microphone, pen and notes, namely Kher. He's also behind the tenacious Chak lein de. Employing a motivational 'just do it' brand of slogan, Kher, Paresh and Naresh infuse the 'one-man army' jingle with sufficient furore and intensity. Yet, it lacks that inspiring 'buck up' in its rhythm to really cheer or convince its listener. Ditto for its pallid techno mix by DJ Amyth.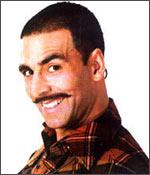 Brace yourself for a touch of oriental hip-hop in the title song, which breaks from its robotically co-ordinated beats to burst into Bunty Aur Babli [Images] jhankaar mode in this lively, crazy concoction churned by Shankar-Ehsaan-Loy. It's a grandeur personified song, which concentrates on contributing to the funniness of the situation and its choreography. Neeraj Sridhar, Anushka Manchanda and Shankar do a vivacious job of achieving the same. DJ Amyth's remix doesn't try to mess with the original so much, except for accelerating its tempo to appealing results.
And so was there any real need for another gimmick-loaded number? Even as you tear your hair to wonder, Bappa Lahiri unleashes his madcap version -- India se aaya mera dost of dad Bappi's picnic anthem, Bambai se aaya mera dost.  If struggling to comprehend what exactly Bappida and Ravi Tripathi are singing wasn't nerve-wrecking enough, there's a seriously annoying pack of chorus gnawing ynou ynou offensively in the background.  
As if on cue, Shankar-Ehsaan-Loy volunteer to soothe those irked nerves with the lilting rhapsody, Tere naina. Easy-going, dulcet duets have always been a S-E-L speciality and they don't disappoint this time either. While Shankar oozes romantic reverence with refreshing fervour, the translucent quality to Shreya Ghosal's glossy vocals escalates Tere naina to another level altogether.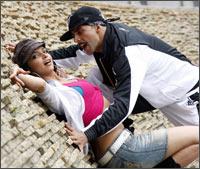 From seedhe saade Akshay (Khiladiyon Ka Khiladi) to Log mujhe Bollywood star. Mera naam Akshay Kumar, the actor indulges in an unabashed exercise of self-adoration. Here's a sampler from the rap recipe by Bohemia:
Mera ek haath ka khel
Sara Bollywood ek mera koi nahi mel
Acting karne chale vaise hazaron
Badsaah ek, baaki sare fail.
Frankly, this could have just ended at Singh being Kinng.

As I mentioned earlier, the music of Chandni Chowk To China is an unpredictable assortment of shifting moods and contrasting colours.  But since its focus mainly lies in creating a sound that is in sync with the film's adventurous momentum, it lives up to the job description.
Rediff Rating: